Barclays AGM hack // 2022

Barclays corporate image hacked during vote on shabby climate plan
May 2022
Subvertising, superglue and security alarms were among the disruptive tactics sabotaging Barclays Bank's annual AGM in Manchester this year, as the AGM prepared to vote on a new climate plan described as "underwhelming" and "embarrassing".
Hacking spaces normally used for corporate messaging, anonymous Brandalism crews installed posters showing the reality behind Barclays' greenwashing and weak climate policies. Across Manchester, Barclays' corporate adverts saying "See the smaller picture" were replaced without permission with spoof ads highlighting the bigger picture of the bank's role in climate breakdown and deforestation.
Video above: crews replace "See the Smaller Picture" Barclays adverts with posters showing the bigger picture of a bank that has poured $166.7 billion (£133 billion) into fossil fuels in the last 6 years.
One artwork by Noel Douglas showed a Barclays hole in the wall with wildfires raging in the background, and the text "Europe's number one for fossil finance. Bankrolling ecological destruction". Another by Street Market Subvertiser rebranded Barclays as "Bastards".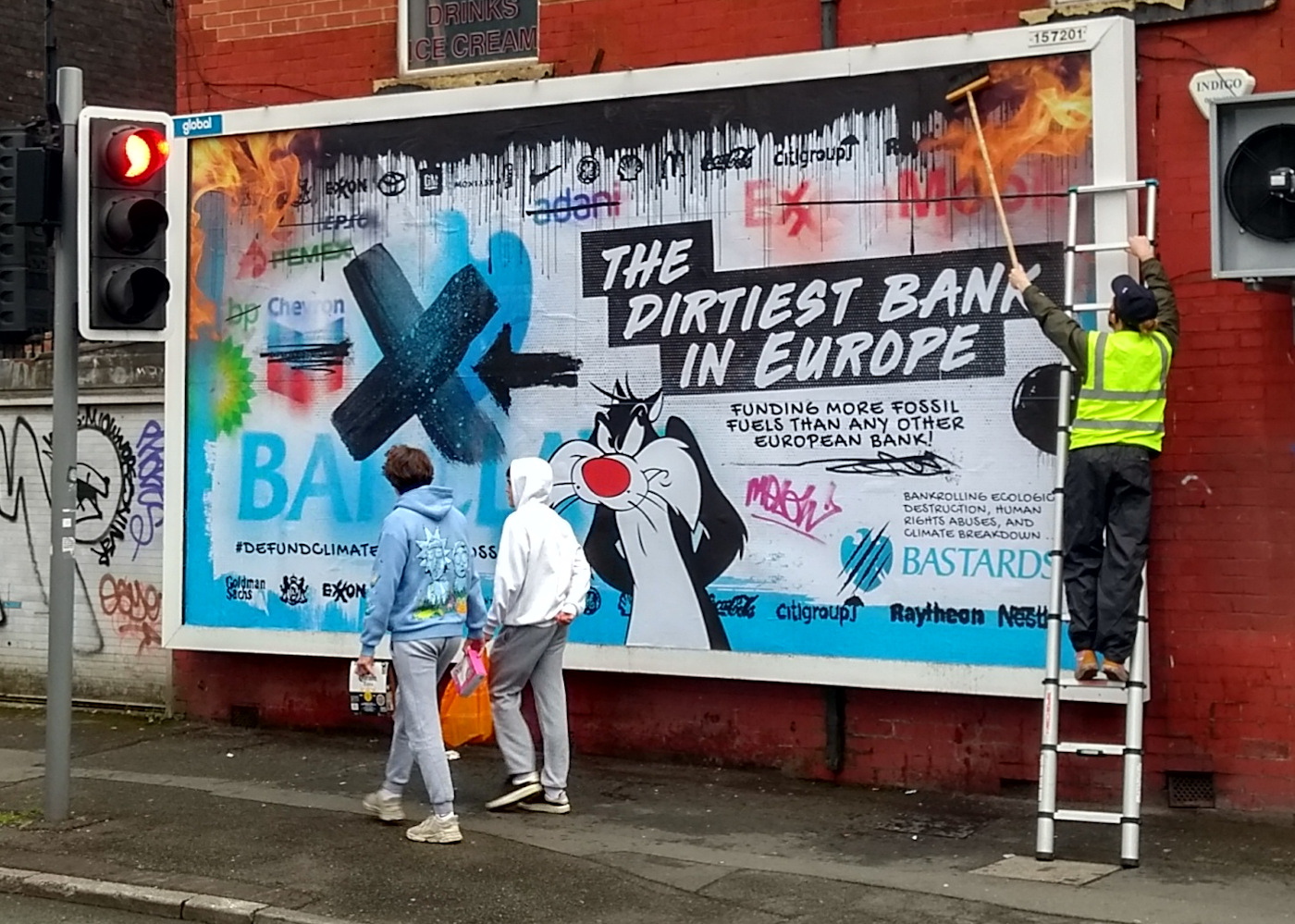 Barclays climate plan makes its own 'net zero' goal impossible.
Barclays claims it is aiming to reach net zero by 2050, but its own "Say on Climate" plan, which was up for shareholder vote at the Manchester AGM, makes that impossible. Instead, under its weak new climate plan Barclays can carry on bankrolling oil and gas expansion and its most polluting clients including ExxonMobil, BP, Chevron, Repsol, Shell and TotalEnergies. The shabby climate plan also does not stop Barclays from financing the dirtiest fossil fuels such as thermal coal, oil sands and fracking.
Artworks by Spelling Mistakes Cost Lives, Inzione, Polyp and Soofiya also called attention to Barclays' disastrous use of carbon offsets and its position as the biggest financier of fossil fuels in Europe.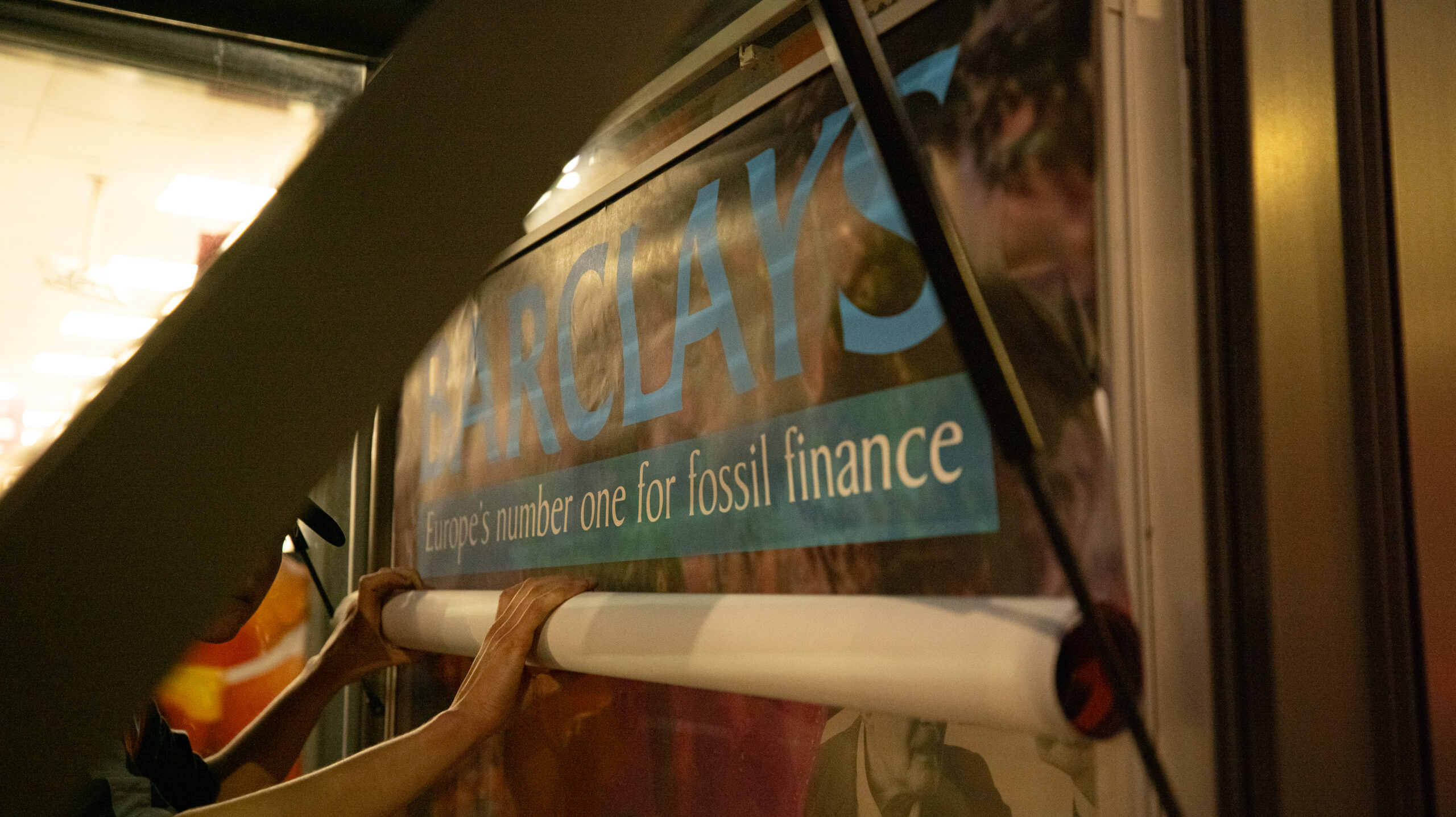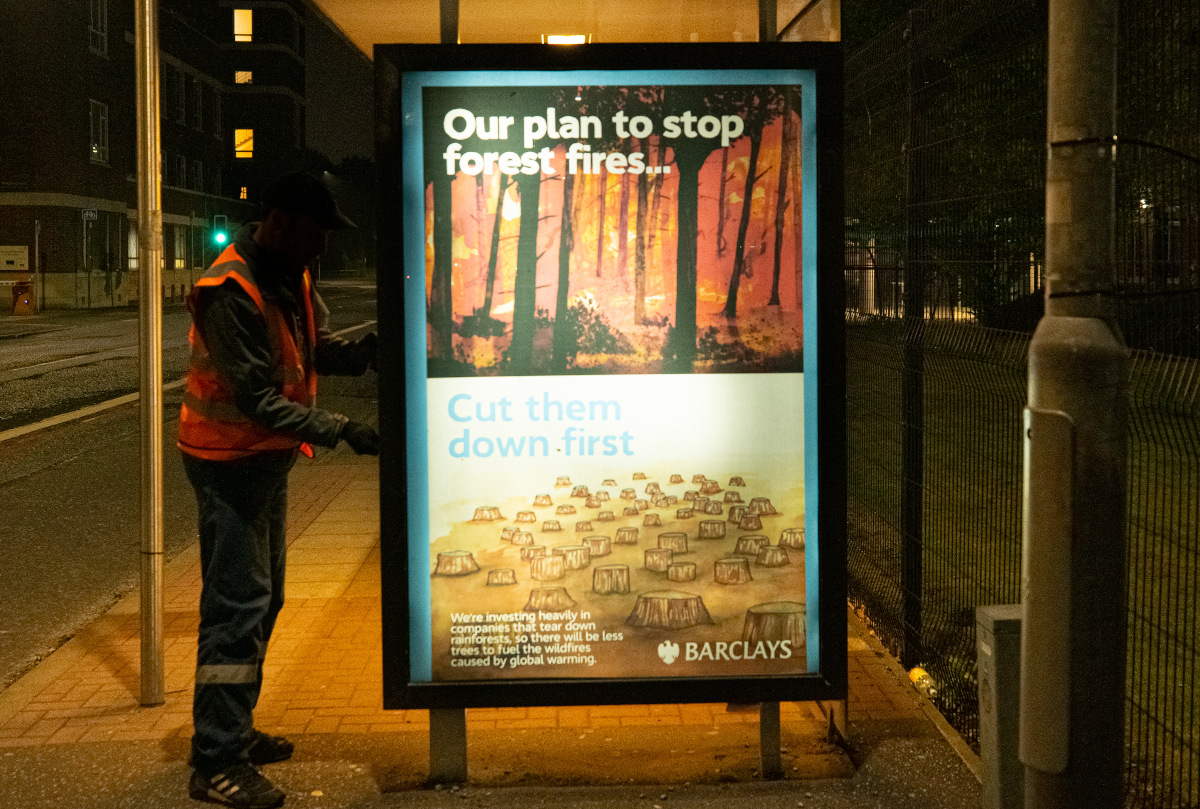 Inside the AGM, activists disrupted proceedings by singing over speeches and setting off alarms in the building, eventually being moved by security guards. The actions were ultimately successful – 20% of shareholders rejected the Say on Climate plan, enough to identify it as a controversial vote, dealing an embarrassing blow to the bank.
The U.N. Secretary-General António Guterres has called on "all financial actors to abandon fossil fuel finance", calling continued investment in fossil fuel infrastructure 'delusional'. Barclays and other fossil banks like HSBC and Standard Chartered are under mounting pressure for their contribution to the worsening climate crisis, their delaying tactics and greenwashing practices.