Ad-hacks slam Wimbledon for Barclays sponsorship deal
07 Jul 2023
Brandalism crews have hijacked advertising spaces in Wimbledon, south London, to protest the tennis tournament's endorsement of Barclays via a lucrative new sponsorship deal.
As the tennis tournament celebrated its dubious "Environment Day", activists replaced corporate ads on streets surrounding the tournament with satirical artworks stating: "Barclays sponsors Wimbledon and Fossil Fuels". The spoof ad, by artist Klarissa Katz, shows Barclays shaking hands with death – dressed up as a corporate executive at Shell.
Barclays is one of the world' biggest financiers of climate collapse, pouring more money into fossil fuels than any other bank in Europe.
Kit Speedwell, Brandalism activist, said: "Wimbledon's so-called 'Environment Day' is a total farce when the tournament is platforming Barclays as its new sponsor. We've hacked ad spaces in Wimbledon to show passers by the real deal about Barclays' sponsorship arrangements – sponsoring tennis puts a pretty face on Barclays' enormous body of fossil fuel sponsorship. This is a break point for Wimbledon – will it show its commitment to the environment and drop Barclays? Or continue to betray fans and players who want a habitable planet to live on?"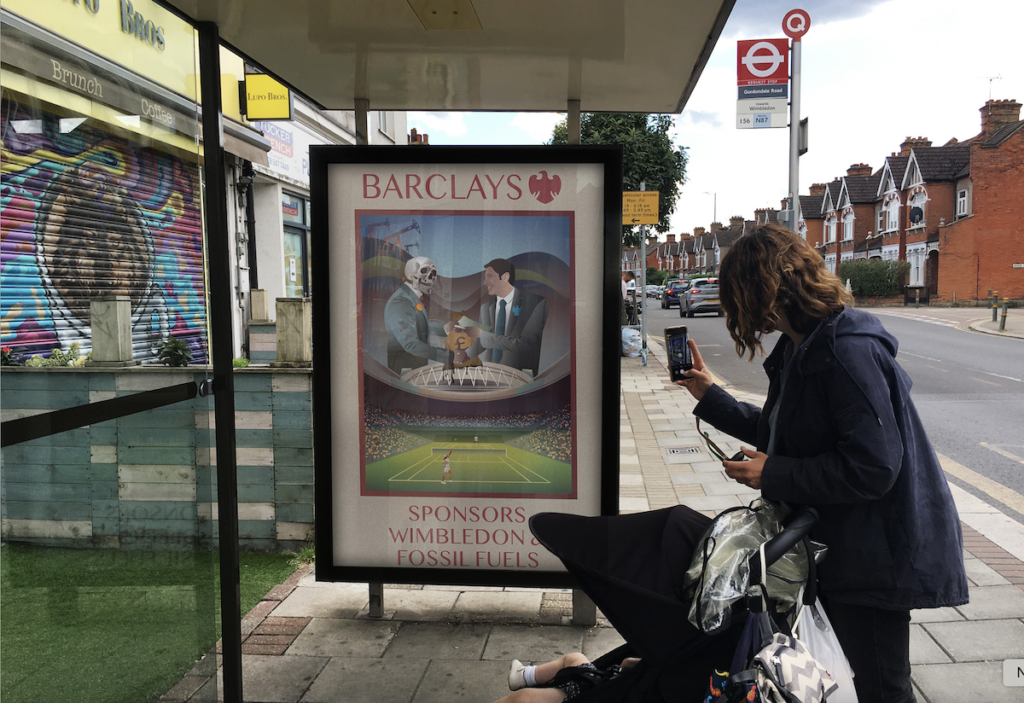 What's going on with Barclays and Wimbledon?
Lubing up its greasy wheels of social acceptability with oil from its fossil fuel partners, Barclays has slid into Wimbledon's court as its new sponsor, with a deal that's rumoured to be far more valuable to the tennis tournament than the £20 million per year reported in the press. Private finance shenanigans going on in the background will boost Wimbledons' coffers nicely, so tennis fans can expect even juicier strawberries in the apocalypse.
But Barclays benefits far more from the partnership. Barclays is piggybacking off Wimbledon's enormous cultural capital to cover up the bank's ongoing role in climate breakdown.
Barclays is one of the main financiers of Equinor's controversial Rosebank development. A decision on Rosebank is expected imminently, making Barclay's glitzy tennis sponsorship extremely good timing for the bank's PR machine.
Slammed
Wimbledon's choice of new sponsor has been slammed by climate groups and the public, and celebrities have penned a letter to the tournament decrying the deal, saying that Barclays is "financing and profiting from climate chaos".
Ad hacks by Fossil Free London redecorated the tube network with spoof ads with the slogan "It takes balls to wreck our only home".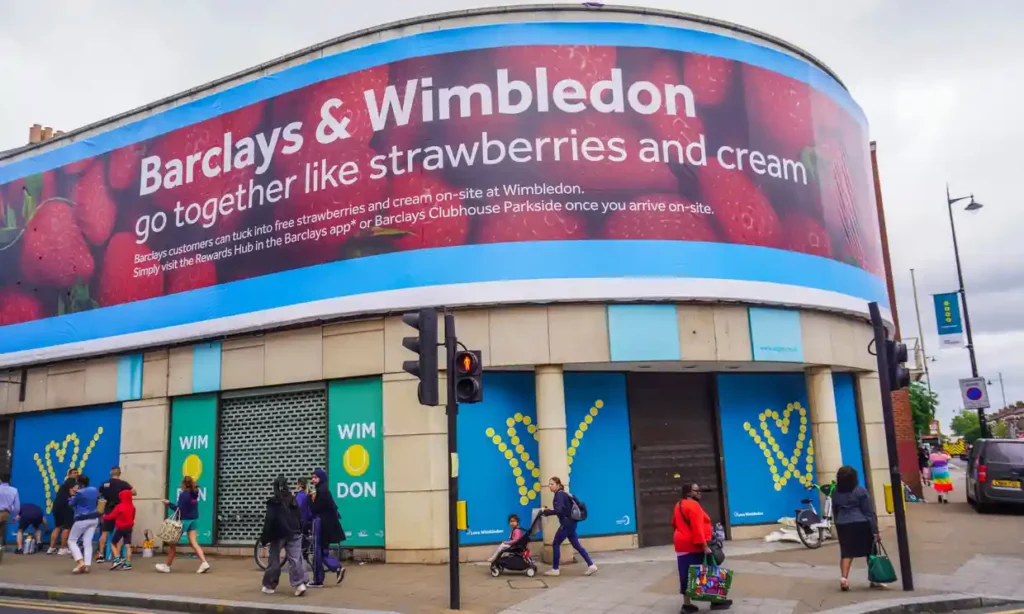 Sports is floating on a sea of oil
According to reporting by the Badvertising campaign, sport is drowning in oil, with big names in climate destruction like Shell, Equinor and Ineos sponsoring teams and stadiums and garnering social standing as a result. Barclays itself sponsors the FA Women's Championship. Until these deals are socially unacceptable, fossil fuel companies and their financiers will continue to exploit sports and sports fans to uphold their social license to continue with business as usual.
The world needs finance to get behind a just transition away from fossil fuels, but Barclays is showing no signs of turning off its money tap to oil, gas, coal, biomass, deforestation, and the resulting destruction of our future. The spoof ads reveal the far more sinister story behind the strawberries and tennis balls.
Artist Klarissa Katz: @klarissakatzart. Design available here.