Dodgy banks out of football: Standard Chartered Bank's fossil fuel investments exposed on Liverpool billboards
11 May 2021
Liverpool has seen its billboards and bus stops 'hacked' by activists over the weekend, in a campaign to expose Liverpool sponsor Standard Chartered for its fossil fuel links.
Over 50 posters and billboards have appeared across the city, critiquing the the bank's continued financing of destructive fossil fuel projects in South-East Asia.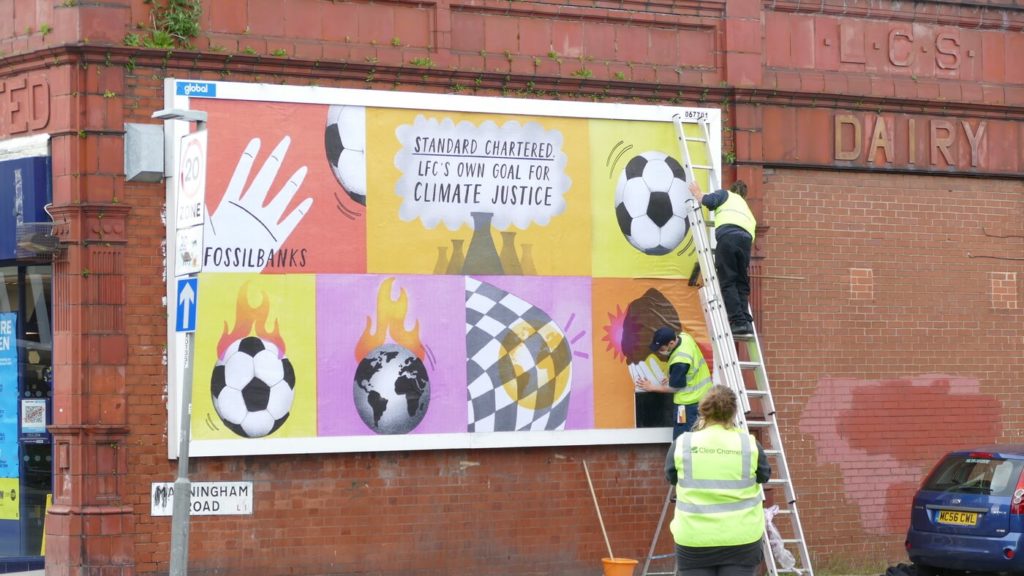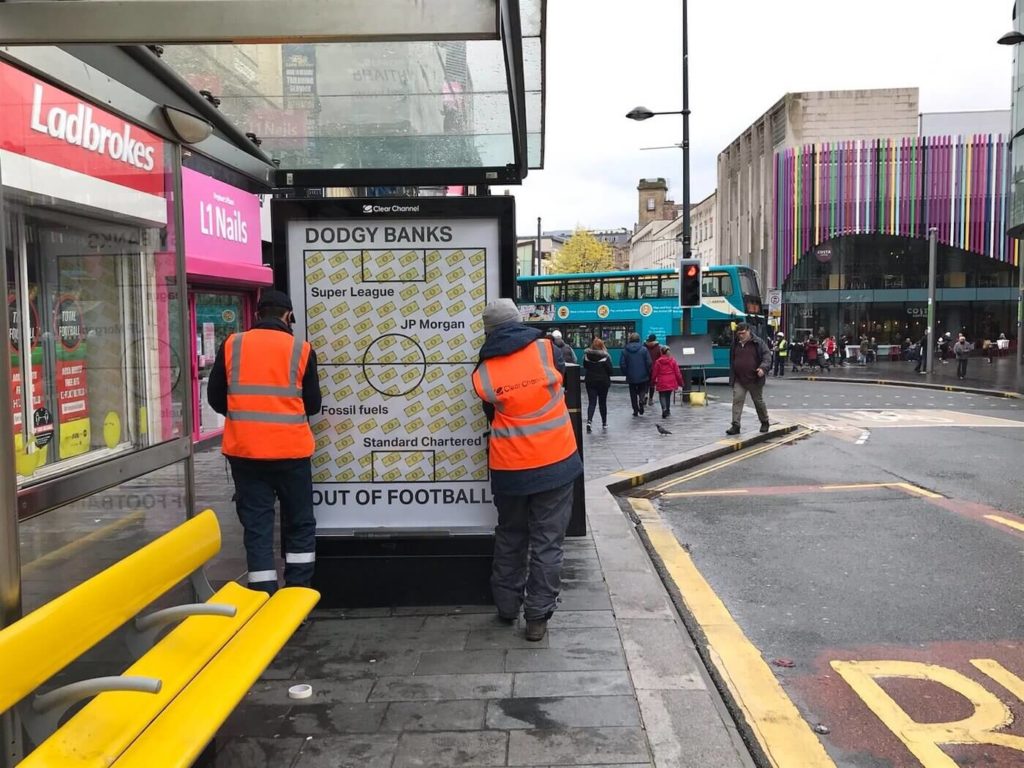 Standard Chartered is a UK bank that's little known in its home country. Most of its customers are in South-East Asia, where it operates large numbers of retail banks. This is a big reason behind the club's sponsorship of Liverpool FC, worth £30m a year, allowing them to appeal to the club's significant global fanbase in the region.
The poster designs by four Liverpool artists (Inzi, Rosa Illustration, T and F-Art-Attack) highlight how the UK bank has loaned billions to fund destructive fossil fuel projects.
Artist F-Art-Attack commented:

"Football is a working class game that is being exploited by big business. Standard Chartered are using Liverpool Football Club to export their brand to a global market so people trust them, making it easier for them to invest in dangerous fossil fuel projects.

The coal projects that Standard Chartered finance in Indonesia, for example, have displaced hundreds of people through flooding caused by deforestation and another coal plant is expected to cause 7,000 premature deaths from air pollution. Investing in fossil fuels whilst claiming to be 'green' and using LFC to do this just isn't on. I made this art so people in my city can be more aware of what Standard Chartered are about and to tell them stop investing in fossil fuels or get out of our city."

– F-Art-Attack 2021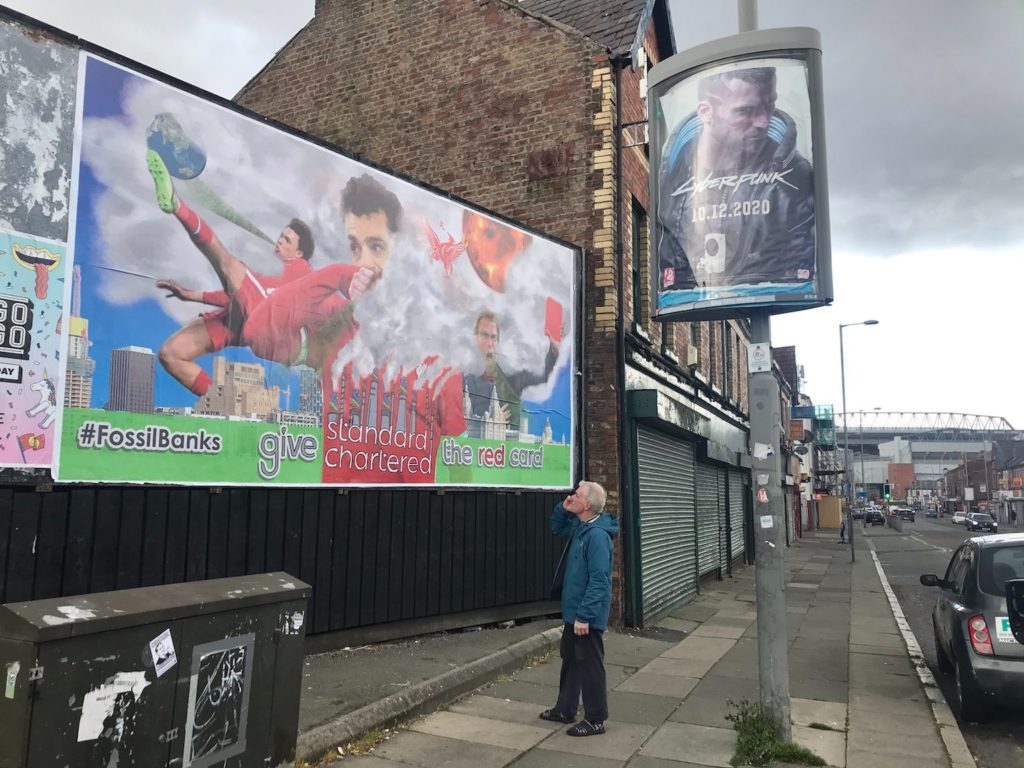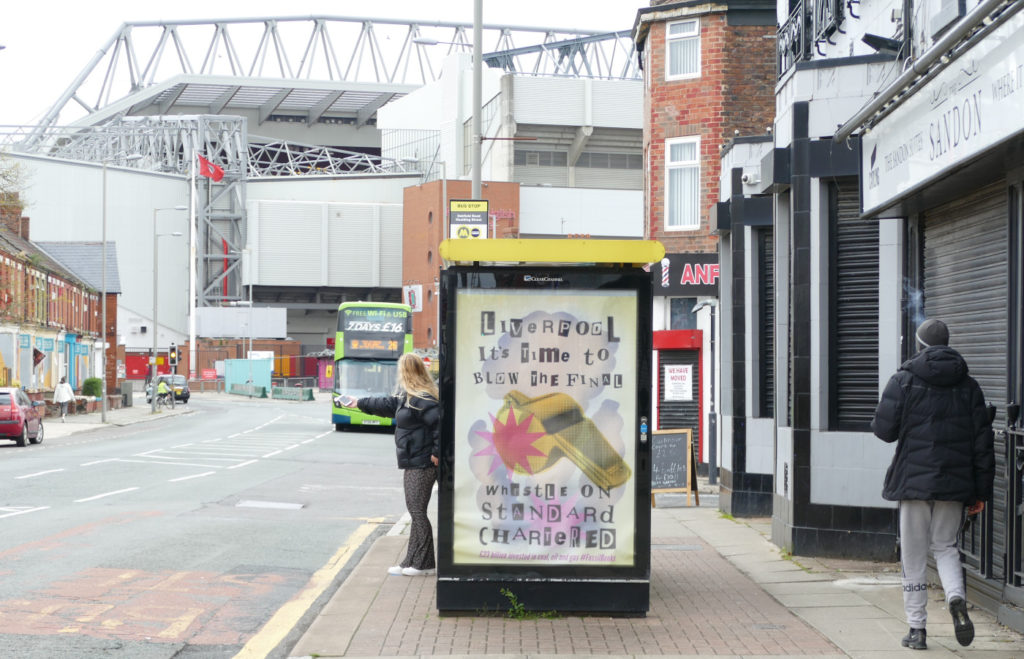 One poster design, featuring manager Jurgen Klopp and player Mo Salah and installed outside Anfield, reads: "Give Standard Chartered the red card".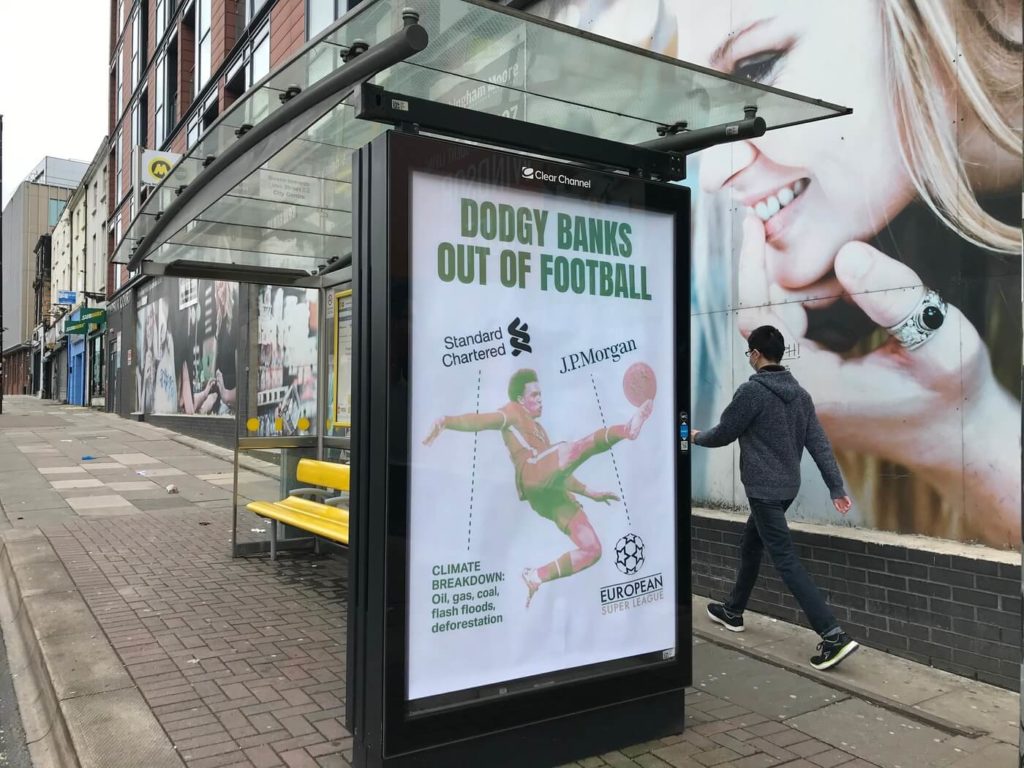 The poster designs also highlight JP Morgan's role in the failed European Super League proposal.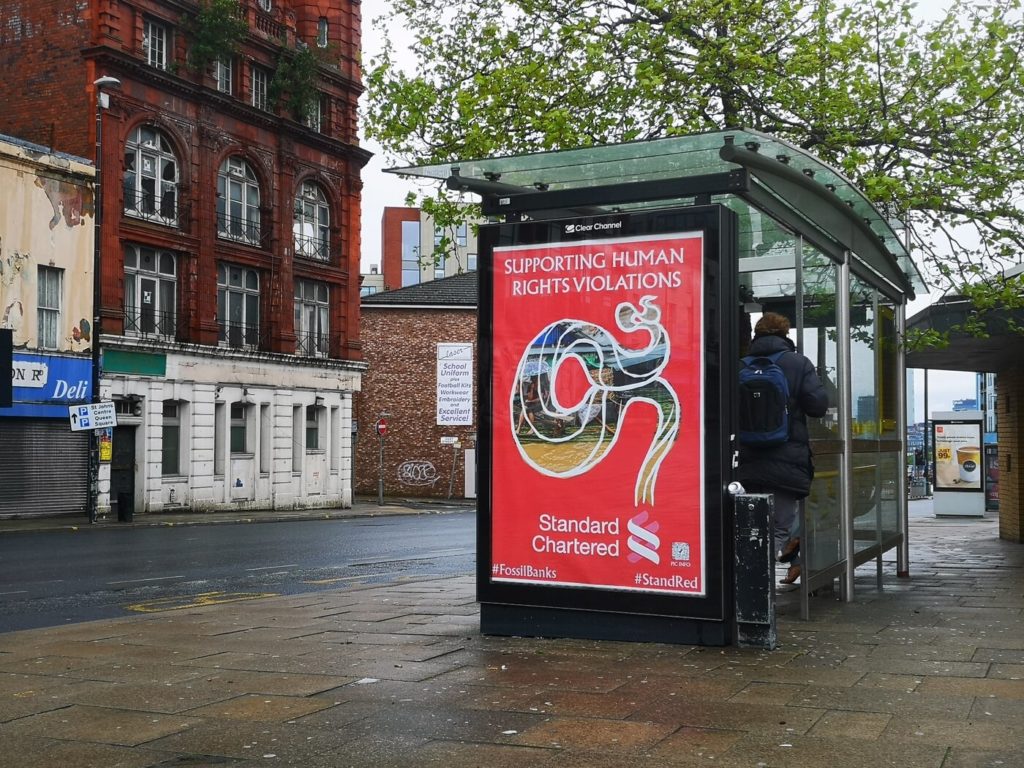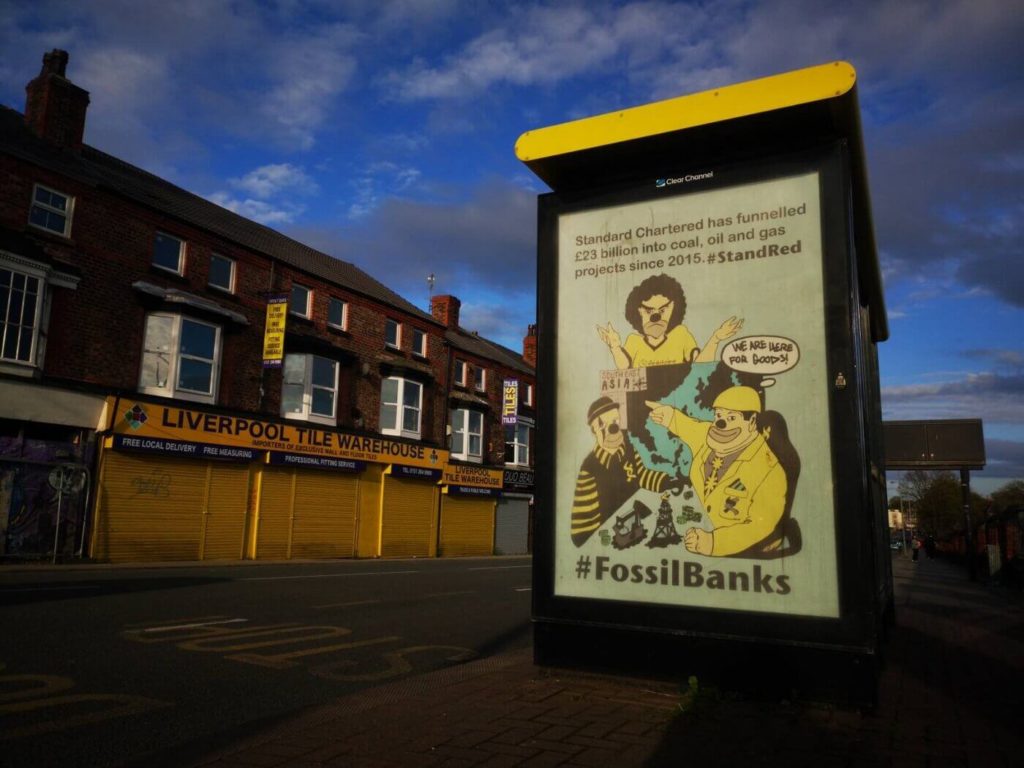 The bank is already under intense pressure from international youth climate group Fridays for Future for having provided over £23bn to fossil fuel companies since the Paris Agreement, and for continuing to finance controversial mining company Adaro. Standard Chartered were one of the UK banks criticised in a new report on the City of London's growing support for coal.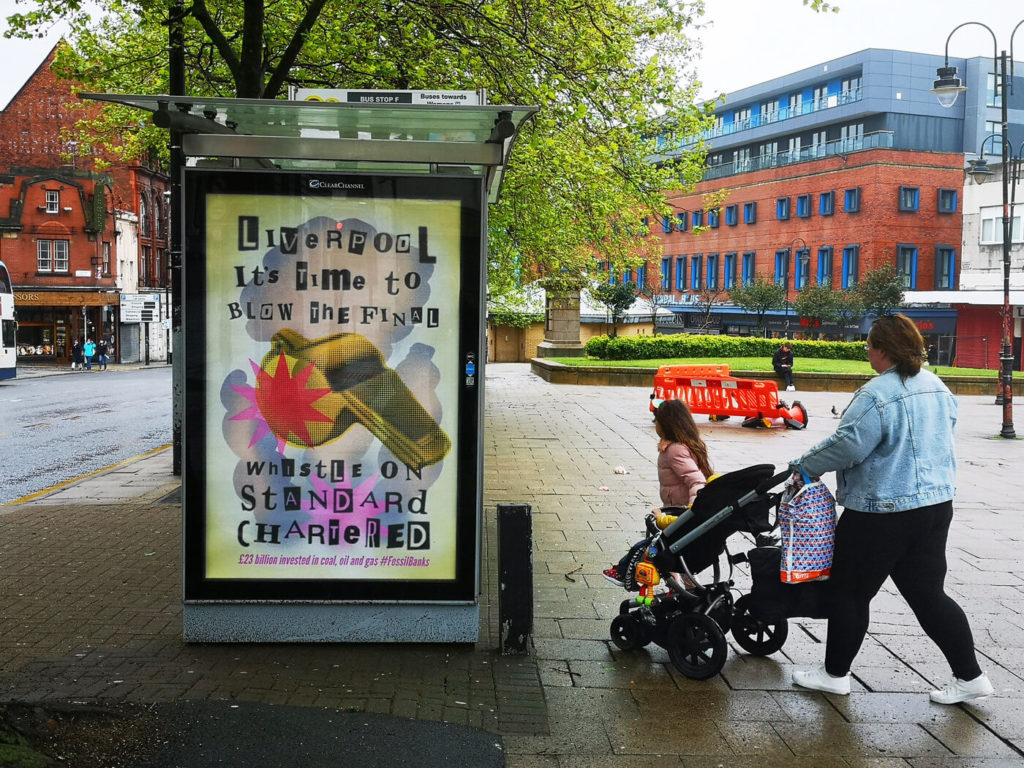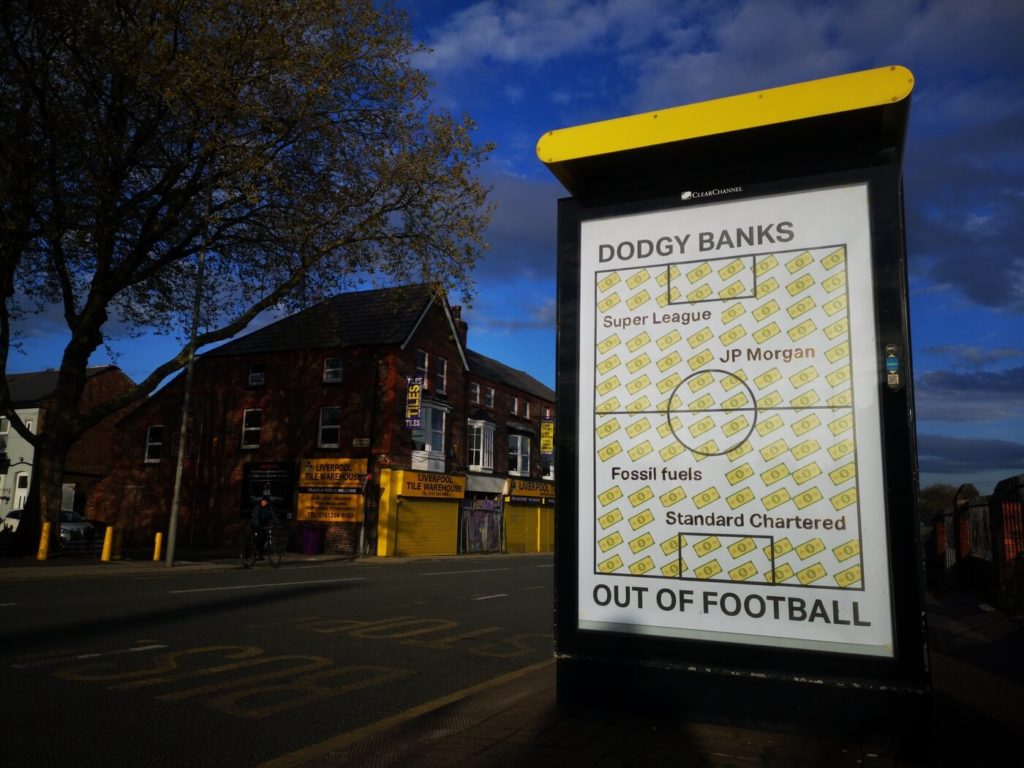 The bank will face shareholders at its AGM on Wednesday 12 May 2021 where it is expected to receive a barrage of questions on its climate impact.