Switch Sides // 2016

In October 2016, over 300 pamphlets were delivered to creative industry workers at the top 25 agencies across England as we  launched  our 'Advertisers Anonymous' (AA) programme.  After successfully hijacking 600 advertising spaces in Paris last December on the eve of the COP21 Climate Summit, we began actively recruiting  members from inside some of the world's most recognised advertising and communications agencies.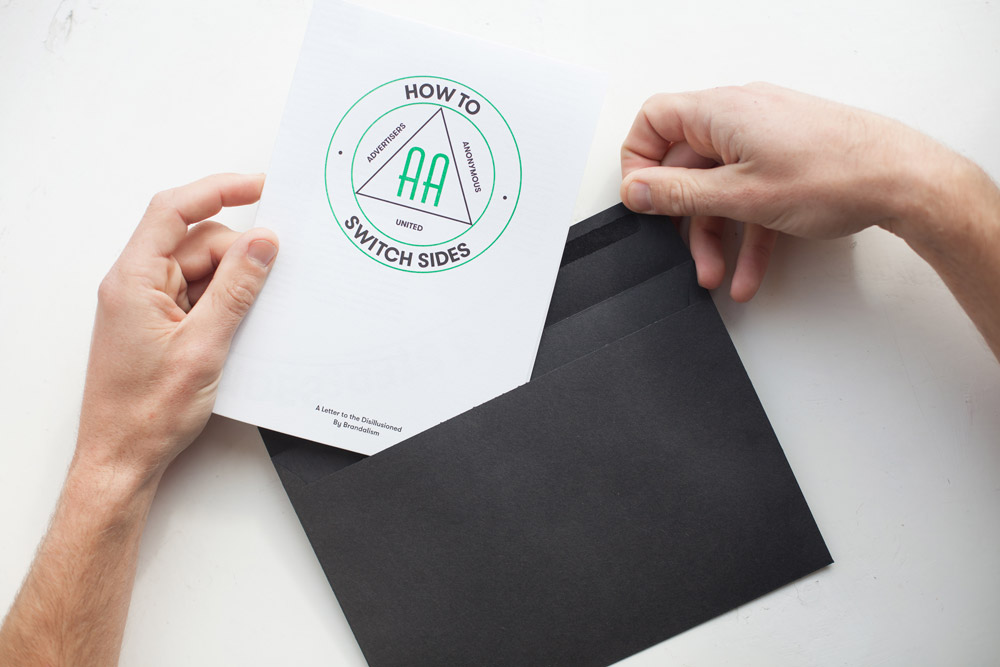 The agencies targeted included Saatchi & Saatchi, Adam & Eve DDB, AMV BDDO, Ogilvy & Mather, Mother and Wieden+Kennedy. This intervention subverts the common industry practice of direct marketing by targeting individual ad agency workers including copy writers, creative directors, account managers and brand strategists across London and the country. The advertising and communications sectors attract the best creative minds in a generation.
The riso-print pamphlet featured stories and practical advice by ex-industry workers from Saatchi, WPP, Fallon, and AMV BBDO on 'How To Switch Sides' and apply their creativity in different sectors. The personal stories highlight the recognisable moments of joy and despair that workers in some of the world's most renowned agencies have experienced and highlight the morally bankrupt culture of the advertising and public relations sectors.
The fold out pamphlet entitled 'Advertisers Anonymous – A Guide to Switching Sides' was designed by a world renowned creative agency. The design subverts the brand identity of Alcoholics Anonymous, and presents Brandalism's '5 steps to Switching Sides'. Each  pamphlet was accompanied by an invitation to attend the world's first 'Advertisers Anonymous' event in London on 24th November, 2016.
Our 'Switch Sides' intervention attracted mainstream industry press from AD Week , Campaign and PR Week.