Over 250 statirical HSBC posters appear on UK billboards, bus stops and tube ad spaces
05 Nov 2020
Dozens of anonymous installation teams in 15 British cities have installed a range of HSBC poster artworks in a 'right of reply' to the bank's recent ad campaign. The artworks highlight the things we don't see in HSBC's official adverts: such as the £67 billion worth of investments in fossil fuel projects it has invested since 2016. This includes financing for fracked gas, oil drilling resulting in deforestation and gas extraction projects which has led to community displacement and human rights abuses in Mozambique.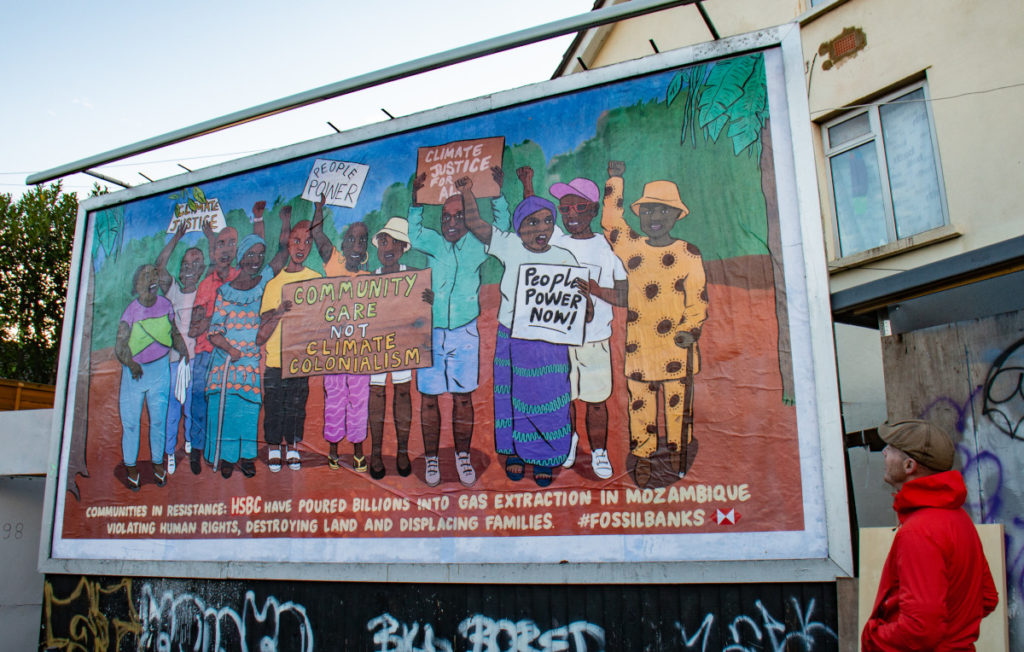 The artworks also referenced HSBC's significant investments in for-profit US prisons and detention centres which have been strongly criticised for separating families and using incarcerated migrants as a source of cheap labour. Other contributing artists such as Jimmy Cauty referenced HSBC's investments in major weapons companies like BAE Systems too, whose munitions have been used to commit serious human rights abuses.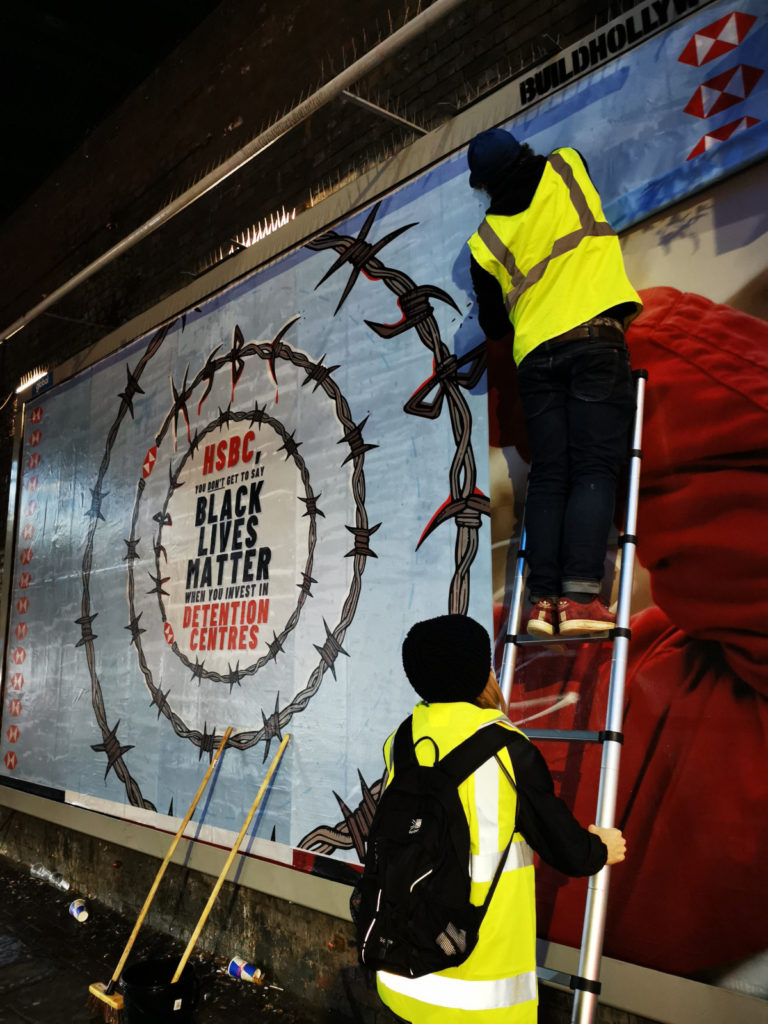 In light of the tragic murder of George Floyd in the US and the consequential uprisings of solidarity across the world, HSBC's Chief Executive Noel Quinn declared support for the Black Lives Matter movement and said: "I want us (HSBC) to be judged by the concrete, sustainable actions we take". The irony of this statement lies in the fact that HSBC invest in detention centres in the US which disproportionately incarcerate people of colour. What's more, they hold investments with GEO Group and CoreCivic who lobby for longer sentences and harsher legislation in order to keep the influx of money coming in, essentially relying on a systemically racist prison industrial complex.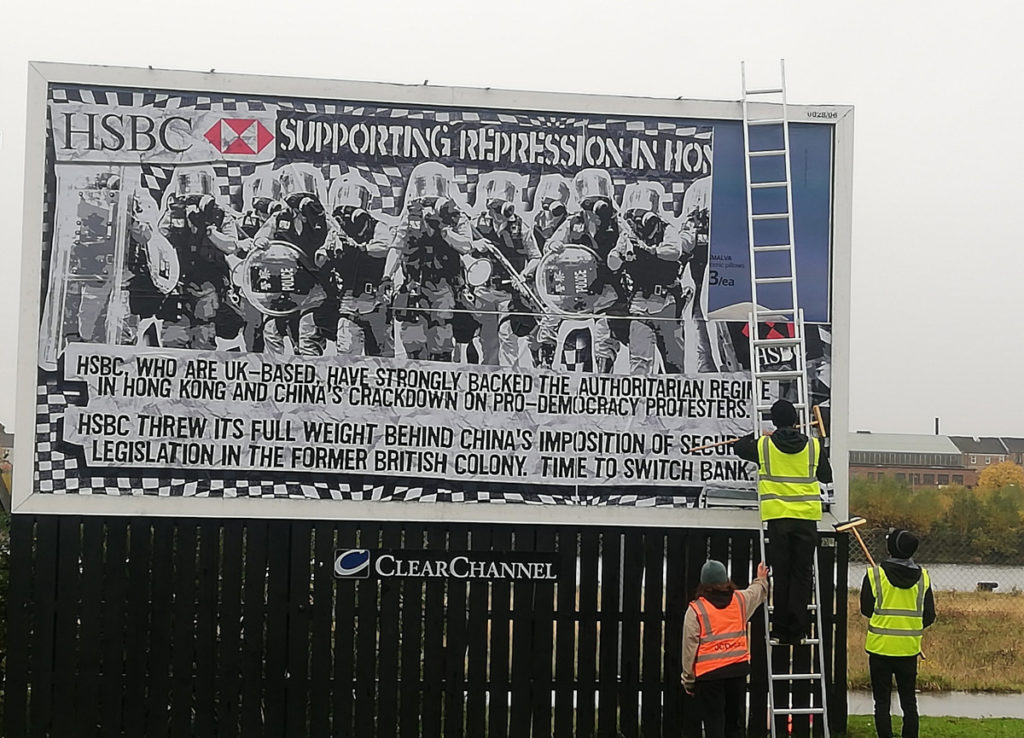 HSBC have also recently declared support for the suppression of protests in Hong Kong, where the pro-democracy movements have been demonstrating against new security legislation being imposed by China and for a fair inquiry into the police brutality they have experienced.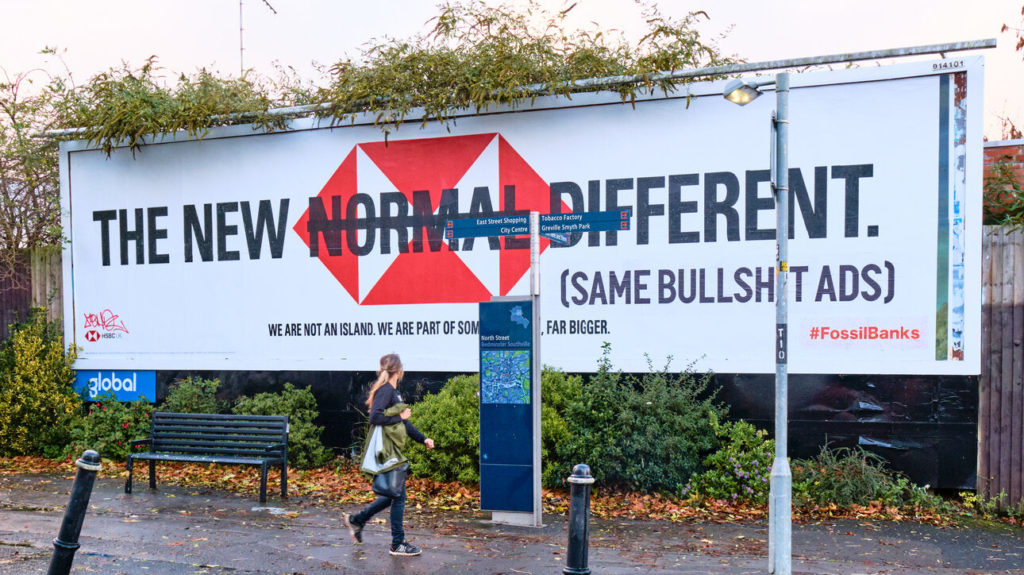 HSBC's current billboard have been altered to read THE NEW NORMAL DIFFERENT (SAME BULLSH*T ADS) #Fossil Banks
Tona Merriman from Brandalism, said:
"Advertising is a key mechanism for big banks to shore up their public image. HSBC likes to position itself as a friendly high street bank through its marketing, but these artworks tell a much darker tale of human rights abuse facilitated by the bank's activities.
Wunderman Thompson, the agency behind HSBC's brand rehabilitation, even seems to understand their role in obscuring these abuses. Their 'Together We Thrive' campaign attempted to co-opt local city identities – a classic tool from the advertising playbook of exploiting authentic cultures for commercial gain.

When advertising agencies launder their clients' reputations, it skews public debate on substantive issues like climate change, human rights and colonial oppression. While the number of people switching to HSBC increased 140% as a result of their ads, did anything really change about the bank and the priorities of its finance? No. So we created a right of reply for the public, here and abroad, to provide a corrective to HSBC's billboards."
For more information and pictures see the HSBC project page.