#BanFossilAds campaign targets advertising agencies over work with highly polluting clients
12 Oct 2021
In France, Belgium and across the UK, an ad hack campaign has targeted leading advertising agencies including Ogilvy, MediaCom and VCCP over their role in the climate crisis. Over 200 billboard and bus stop posters installed without permission in over 20 towns and cities link the advertising agencies with their high carbon clients such as Shell, BP, Jaguar Land Rover and British Airways.
The action was part of four days of grassroots actions to protest fossil advertising and sponsorships, under the banner #BanFossilAds.
While the advertising industry has long escaped scrutiny for their role in the climate crisis, this action clearly juxtaposes imagery of flooded townscapes and wildfires with polluting brands – and the advertising agencies that help to promote them.
The satirical posters, created by artists Noel Douglas, Matt Manson, Fokawolf, Michelle Tylicki, Nancy Heley and David Araeva, call attention to the unfolding climate crisis and the irony of continued advertising for carbon-intense industries. One by Matt Manson satirises easyJet's 'This is generation easyJet' advertising campaign created by ad agency VCCP. With the strapline "This is generation climate breakdown", the spoof ad displays an invitation to purchase "Flooded landscapes for €14.99" across images of a flooded city.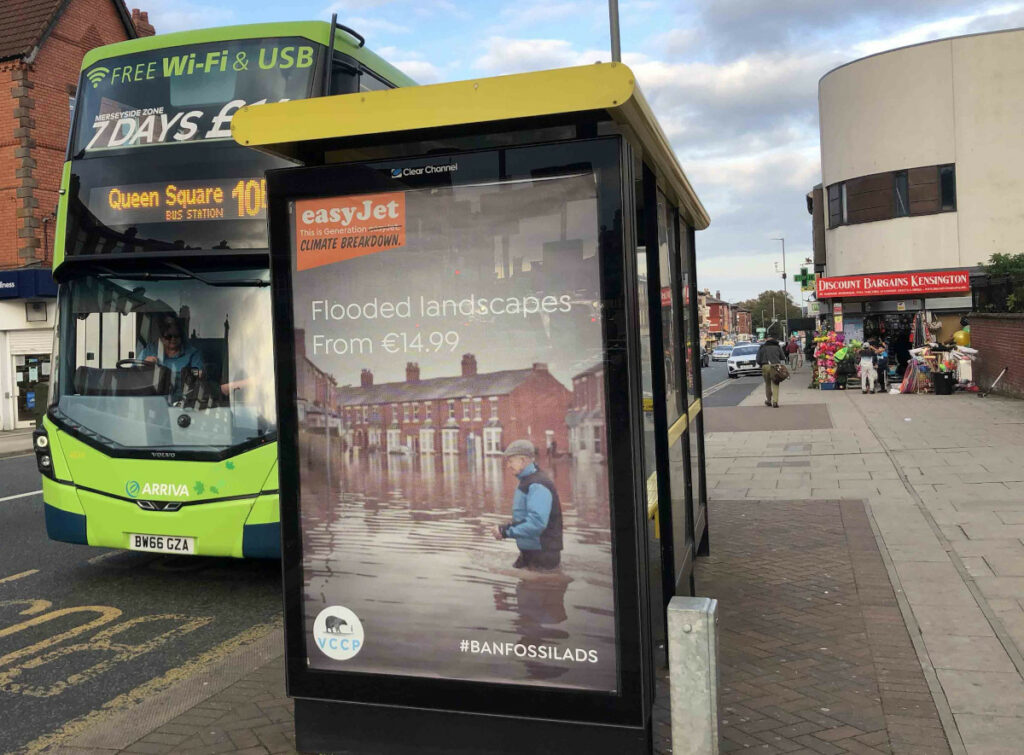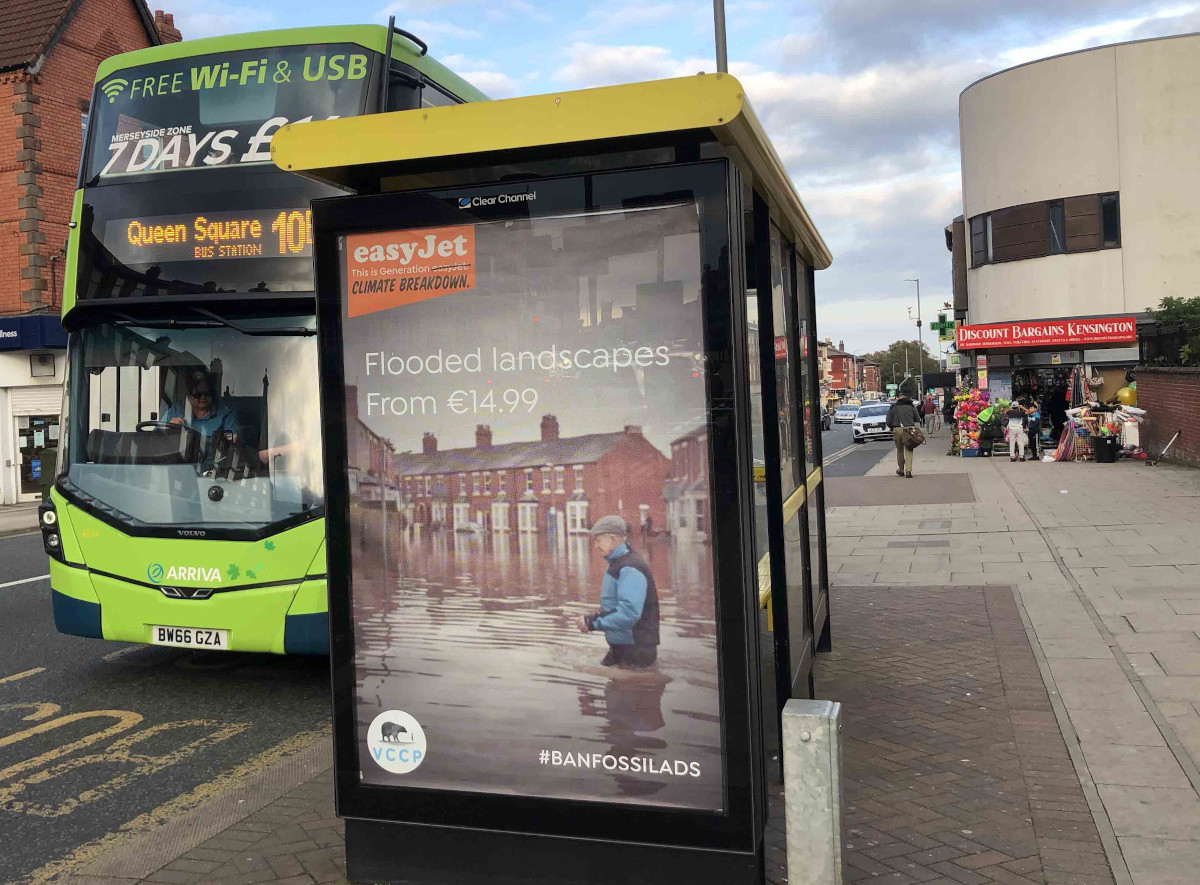 Another by Michell Tylicki features Ryanair, British Airways, Virgin and Easyjet, with a greenwashing paint roller and the words: "We don't have a credible plan to reduce emissions. But we do have lots of greenwash adverts." David Araeva's artwork shows major ad agency Ogilvy's logo alongside a BP logo dripping in oil, and references the major advertising, marketing and PR agency's current and historic role in 'cleaning up BP's image', especially following the devastating Deepwater Horizon spill in 2010.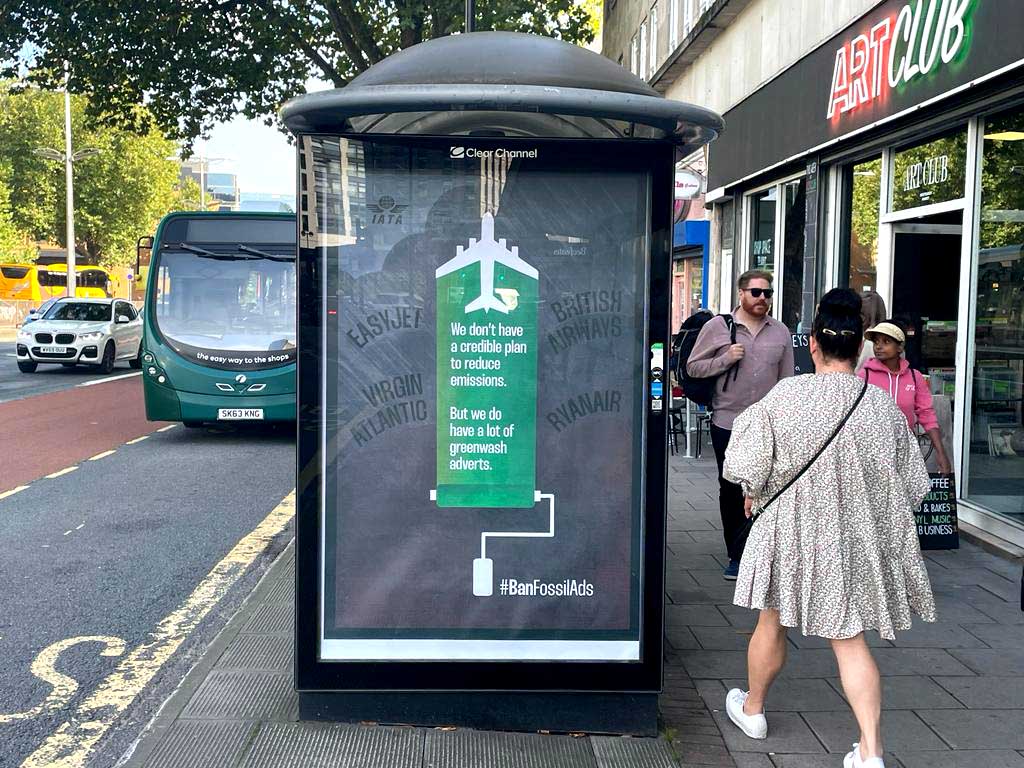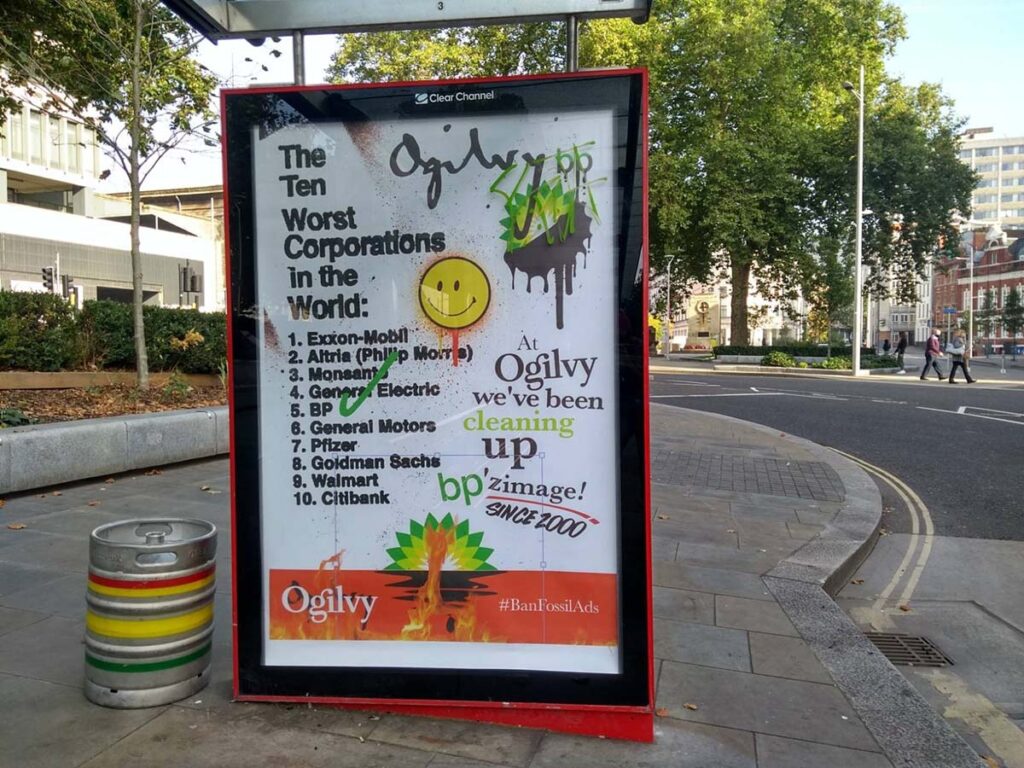 Tona Merriman from Brandalism said:
"Greenwash is the second wave of climate denial in which polluters use false claims about carbon offsetting and 'net zero' to delay meaningful climate action. We want to bring the ad agencies who do this greenwashing back into the picture.

Even when they're not actively deceiving the public, advertisers' constant manufacturing of new desires for never-ending cycles of consumerism is trashing the planet. We need a paradigm shift."
Greenwash advertising by companies including Land Rover and BP has been the subject of several recent legal complaints. In one case, BP's 'Keep Advancing' campaign by Ogilvy, which had the strapline "We're working to make energy cleaner" was released at a time when BP had 96% of its annual spend on oil and gas. A recent investigation by DeSmog found that on average, 63% of adverts by a selection of major polluters are greenwash.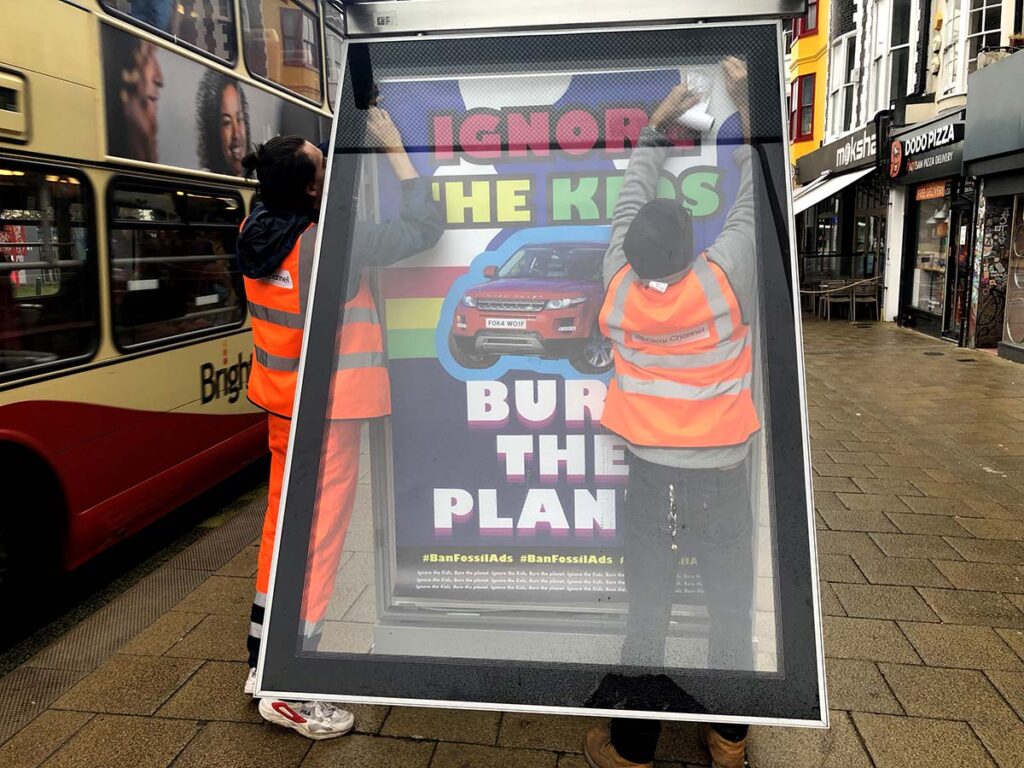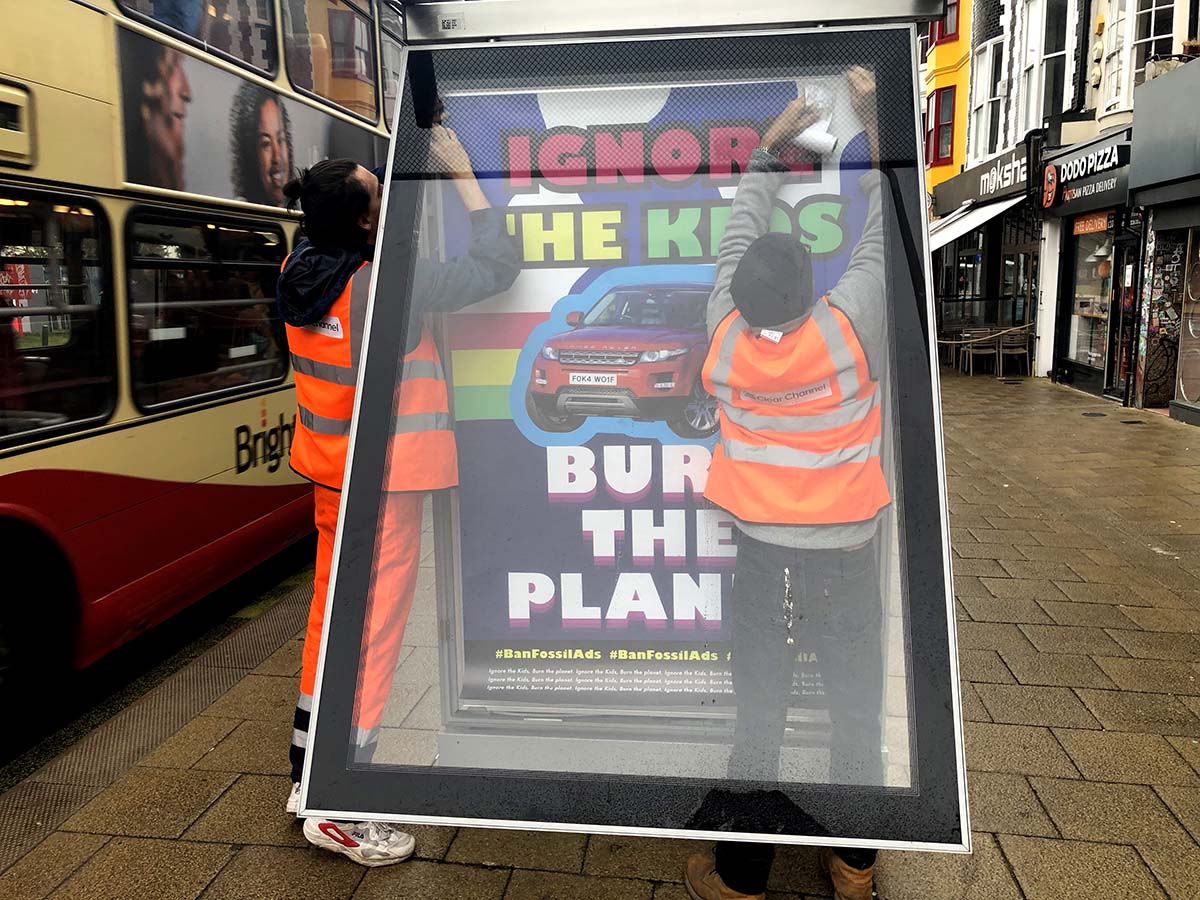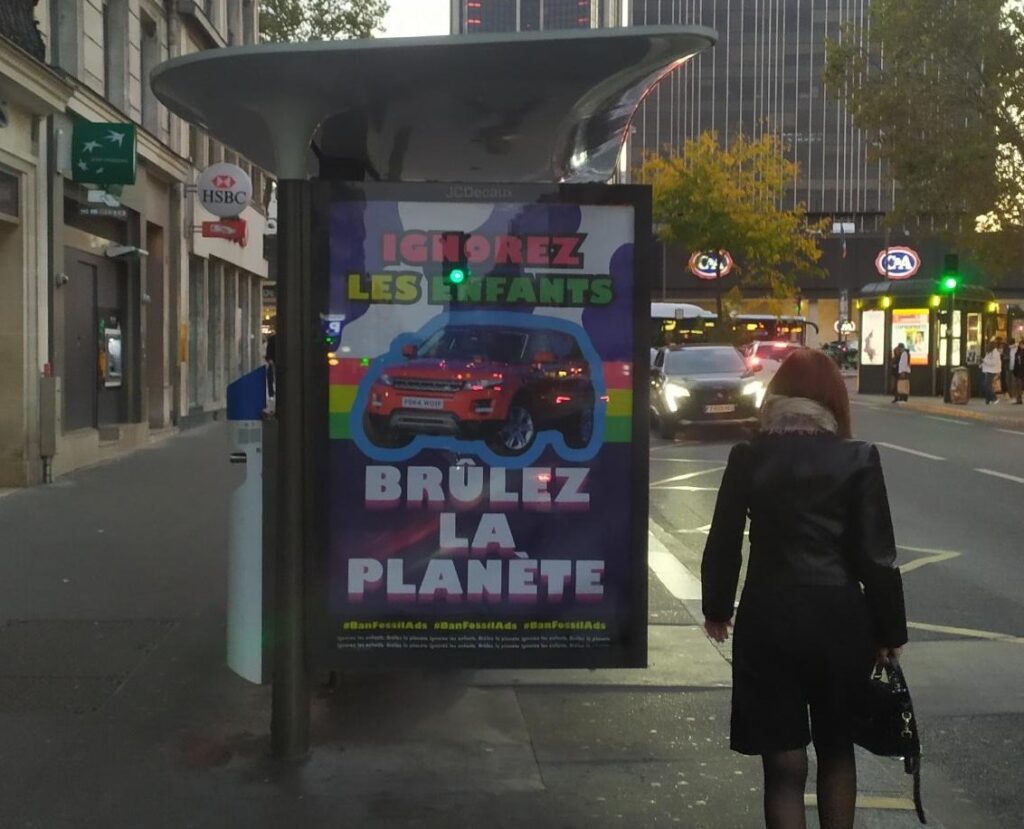 The artworks were installed by Brandalism crews who have joined forces with a group of anti-advertising and climate organisations across Europe, including Adfree Cities and Badvertising in the UK, Liège Sans Pub in Belgium, Résistance À L'Agression Publicitaire in France and Reclame Fossielvrij (Fossil Free Advertising) in the Netherlands.
The campaign was part of four days of action taking place across Europe in protest against advertising and sponsorship for high carbon products and misleading 'greenwash' by fossil fuel companies. A European Citizens' Initiative "Ban Fossil Fuel Advertising and Sponsorships" was launched last week just one month before the crucial UN climate conference in Glasgow, COP26. The proposed ban would prohibit any advertisement or sponsorship in the European Union by companies selling fossil fuels, vehicles running on fossil fuels, and flights or ferries that run on fossil fuels.
In the UK, anti-advertising groups Adfree Cities and Badvertising are calling on local councils to follow the example in Amsterdam and the Hague of banning advertising and sponsorship for polluting cars, airlines and fossil fuel companies. In the UK, Liverpool, Norwich and North Somerset councils have all passed motions to implement similar measures.
Robbie Gillett from Adfree Cities said:
"Whether it's using the best creative talent to promote high carbon products, providing misleading greenwash for big oil companies or filling our public spaces with energy intensive ad screens, the juggernaut of polluting PR needs to end."