Parody car adverts hit UK cities
05 Sep 2020
A wave of parody car adverts have appeared on billboards and bus stop in Birmingham, Bristol, Cardiff, Exeter, Leeds and London – as pressure grows on the car industry advertising.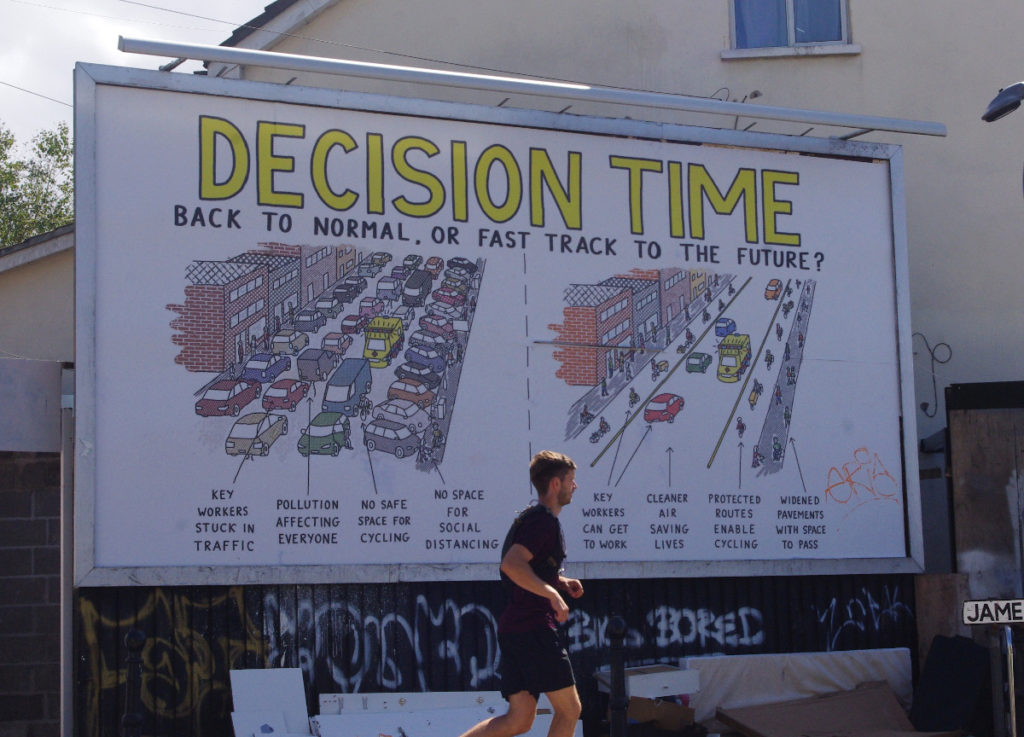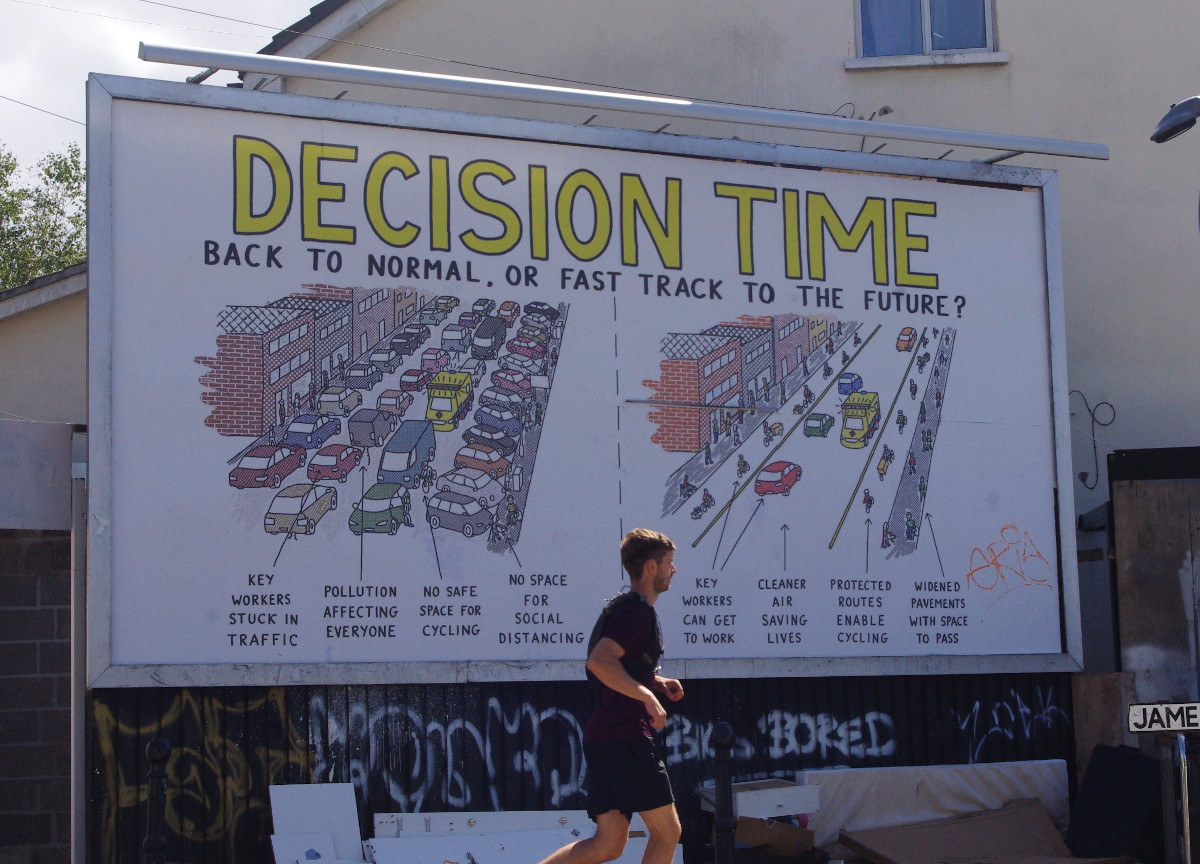 Press Release: 100 billboards used in anti-car protest
5th September 2020      Contact: Peter Marcuse / brandalism[@]riseup.net /  0044 74385 10447
Web-ready images can be downloaded from here.
Environmental groups from the 'Brandalism' network have installed over 100 parody car advert posters on billboard and bus stop advertising spaces in England and Wales.[1] The guerilla artworks featuring brands such as Range Rover, Ford, Volkswagen, BMW, Citroen, Lamborghini and Vauxhall were installed without permission in Bristol, Birmingham, Cardiff, Leeds, London and Exeter.
The billboard posters criticise the car industry for misleading adverts that have driven up demand for polluting vehicles and private car use – resulting in increased carbon emissions from road transport and worsening air pollution and congestion in towns and cities. [2]
Peter Marcuse, from Brandalism said:
"Car adverts promote private car ownership as a status symbol. Themes of power, success and social status are mixed with exotic locations and empty roads to promote a myth of freedom and mobility. The resulting problems of traffic congestion, worsening air pollution and climate breakdown are left out of these glitzy ads.

Outdoor advertising billboards are used to promote new cars to motorists stuck in traffic. It's absurd.

Our towns and cities have become so dominated by private cars that we're struggling to implement sustainable alternatives as the health and social costs mount. The active promotion of polluting vehicles through advertising campaigns isn't helping the situation. We need a cultural shift away from cars."
The parody adverts took particular aim at highly polluting Sports Utility Vehicles. Environmental organisations from the New Weather Institute and climate charity Possible have recently called for advertising for the 'dirtiest third' of vehicles to be prohibited. [3]
Over 30 artists including Paul Insect, Jimmy Cauty, street artist Dr.D, Fokawolf, satirist Darren Cullen, Matt Bonner and Michelle Tylicki created 45 different artwork designs.
One poster by Birmingham street artist Fokawolf: "Ignore the Kids, Burn the Planet' with a picture of an SUV.
Another billboard featured the highly fuel inefficient BMW X5 reading "Embrace the traffic jam, Driving you into Climate Breakdown."
A mock Lamborghini advert presented the bright SUV within a hellscape of 16th century artist Hieronymus Bosch.
Other artworks referenced covid19 initiatives to re-allocate urban road space away from cars to allow more space for socially-distanced walking and cycling. The bailouts received by car companies without the need to improve environmental standards are also featured.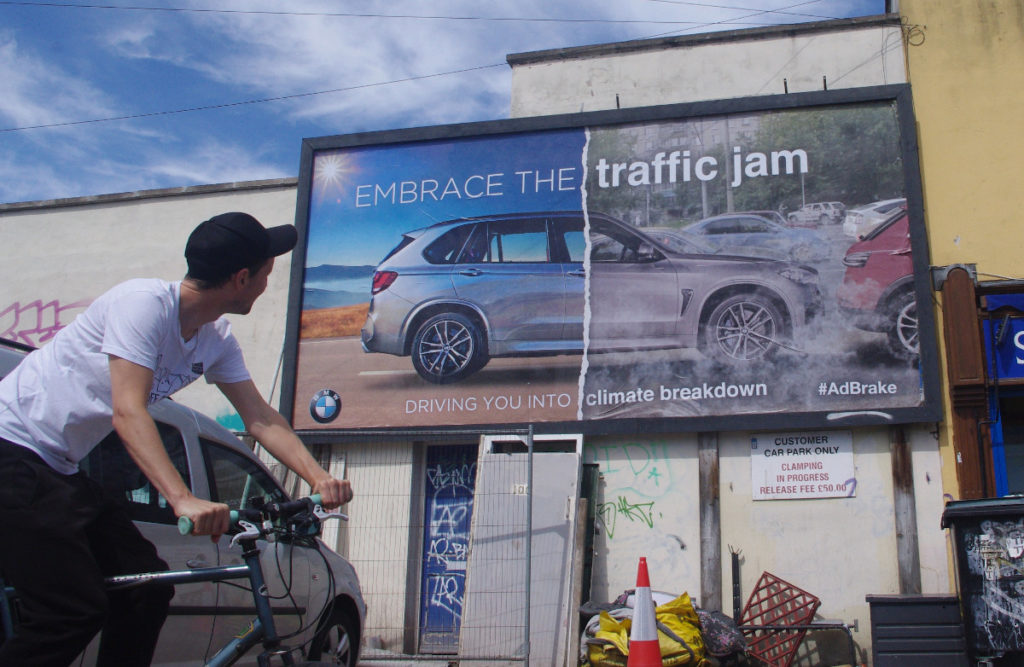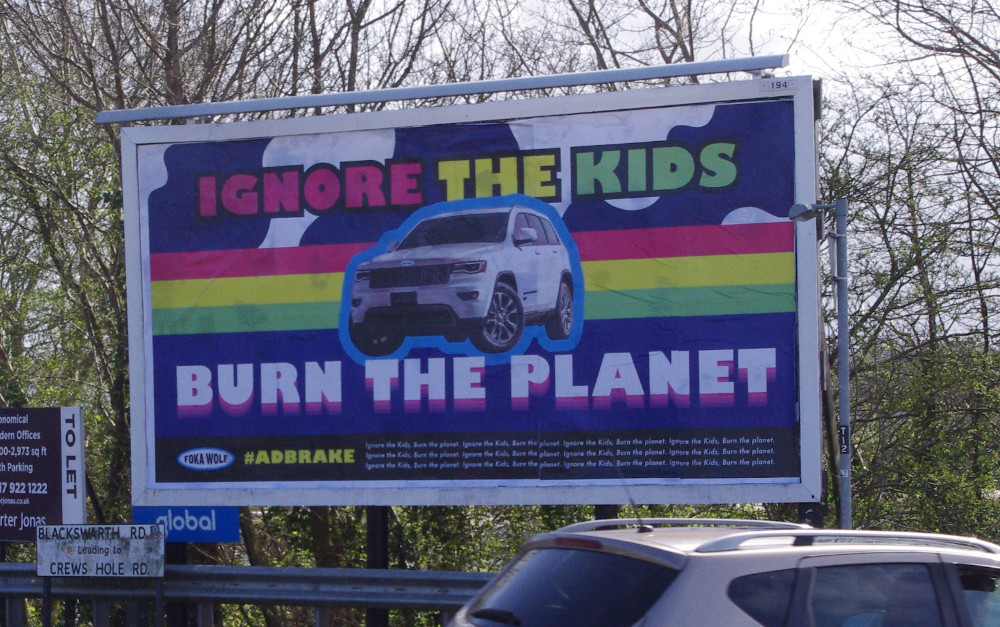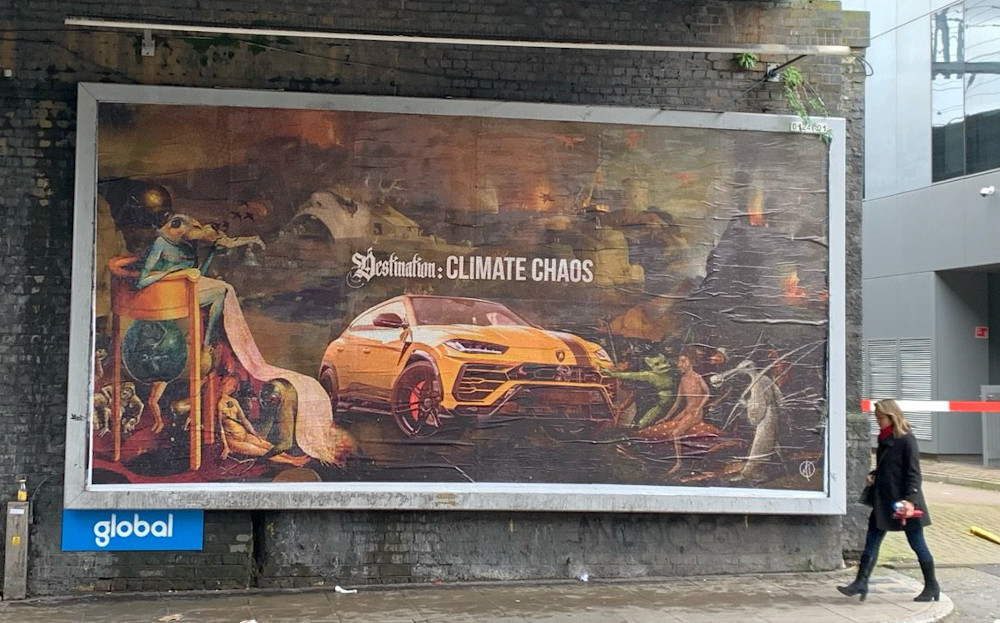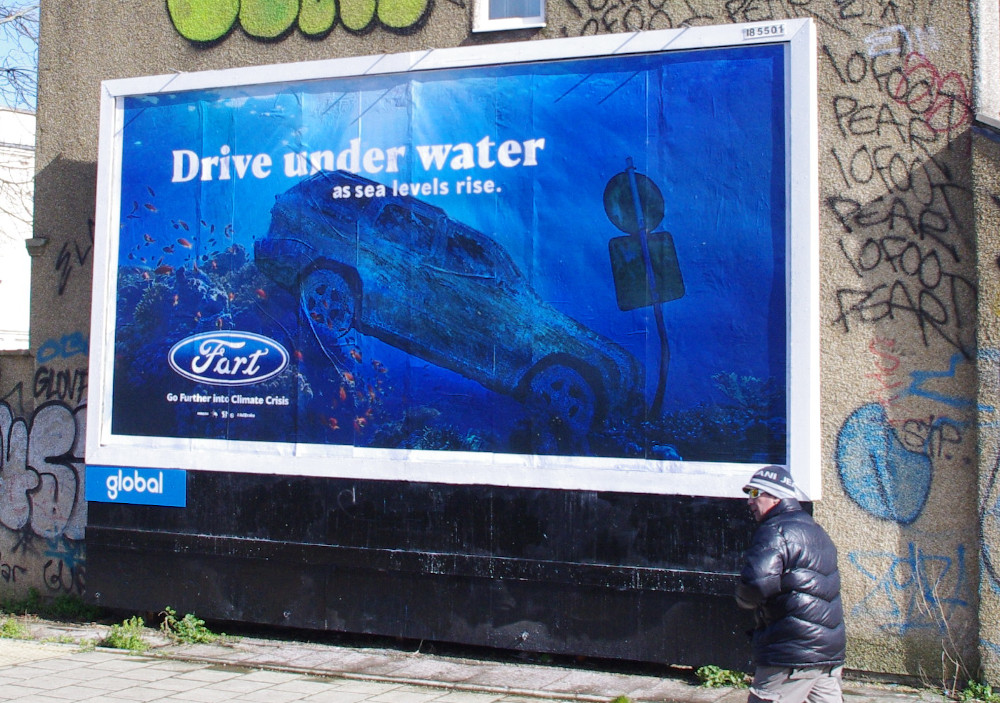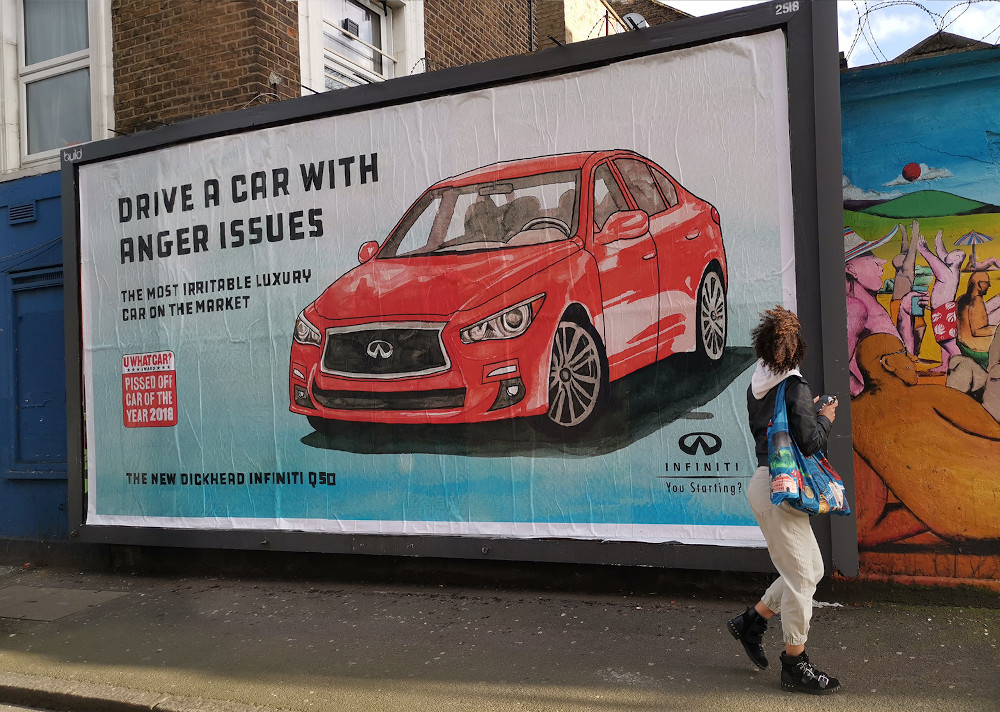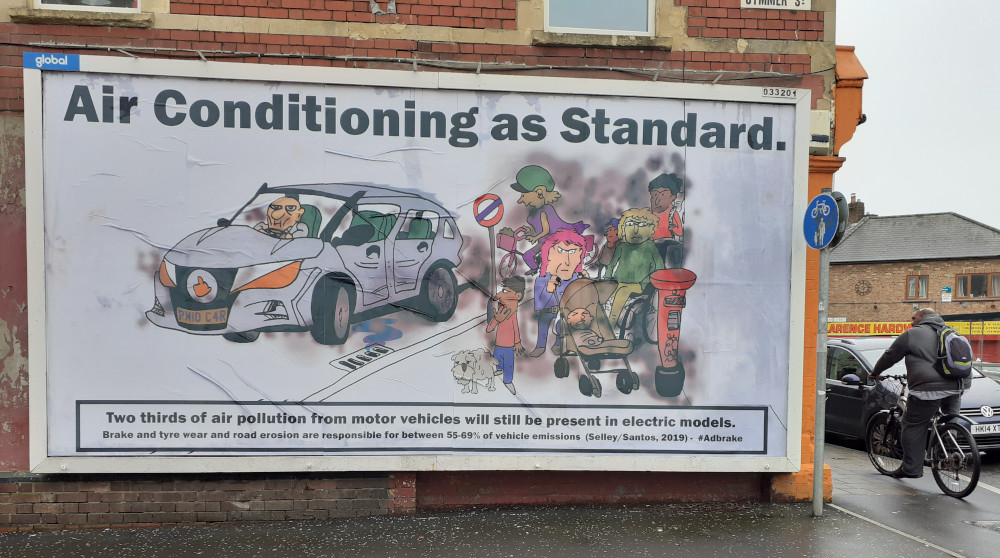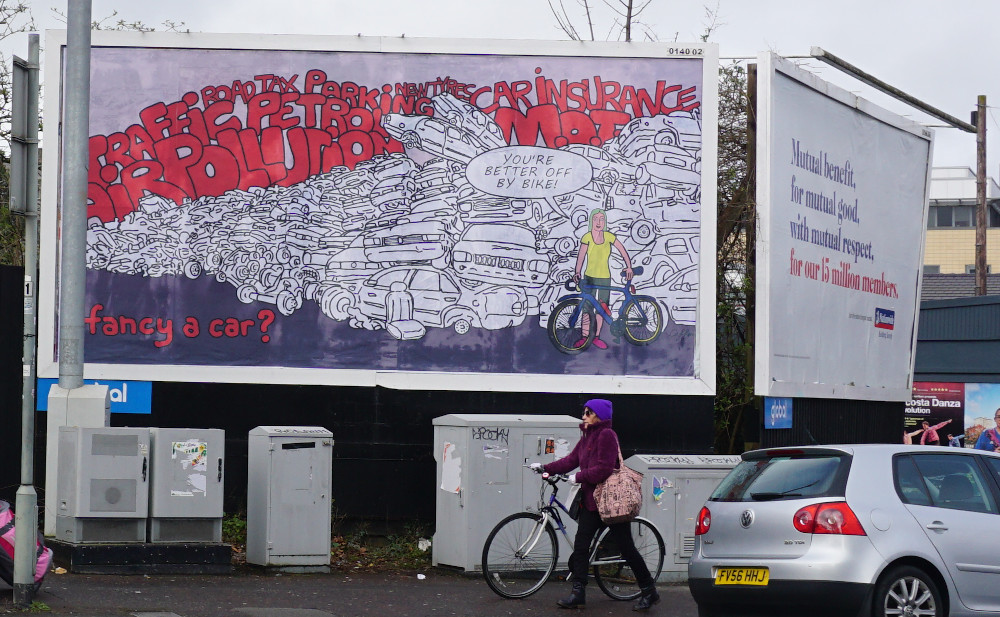 More car subvert artworks can be seen on our Projects page.