Shell Make the Future // 2018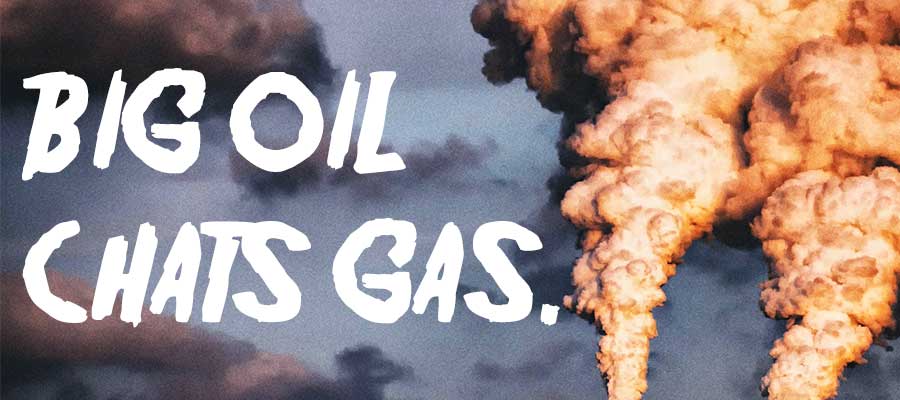 ---
Subvertised posters appear in bus stops as millienials take action against Shell's yearly PR-festival, 'Make The Future'
---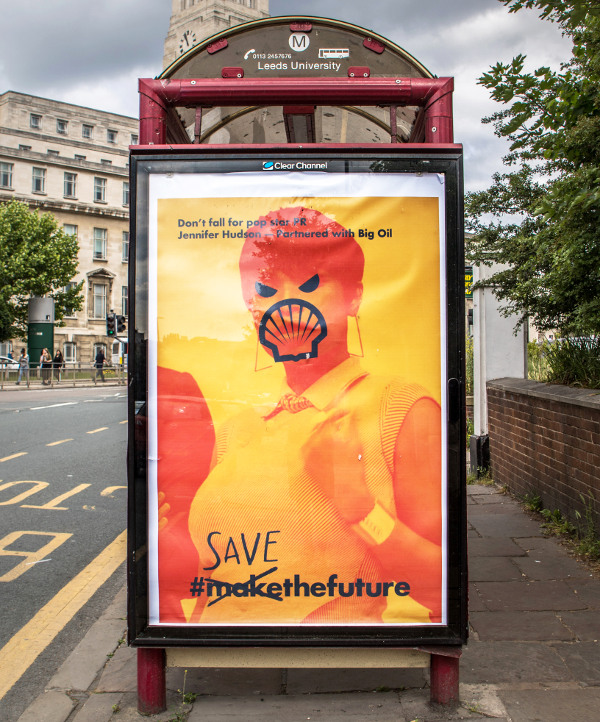 The subverted ads were installed just weeks before Shell's 'Make The Future Live festival, which starts on 5th July 2018 in Queen Elizabeth Olympic Park, which aim to publicise the company's renewable energy technologies to a millennial audience. The artworks highlight the hypocrisy of Shell's recent PR campaigns promoting itself as a responsible and sustainable company in light of the corporation's continued fossil fuel extraction, human rights abuses, aggressive lobbying against climate legislation and historic climate denialism.
In London, a number of subverted ads have been posted outside Shell HQ and the National Theatre, a cultural institution that has received criticism for a Shell-sponsored a series of dramas and an ongoing corporate partnership with the company.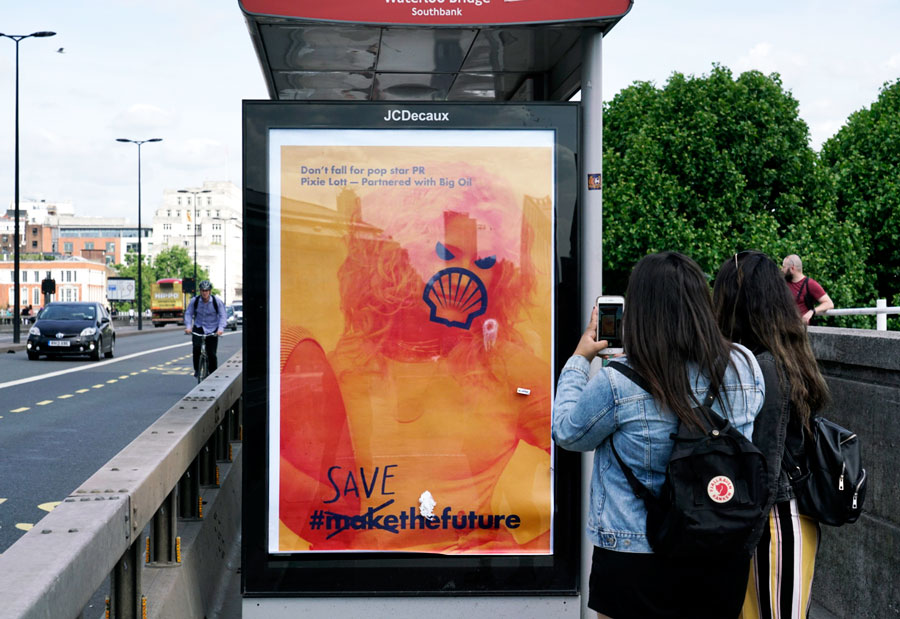 Some of the artworks across the four cities feature images of Shell's #MakeTheFuture sponsored pop stars including Pixie Lott, Jennifer Hudson, Luan Santana, Tan WeiWei, Yemi Alade and Stever Aokim, with the messages "Don't fall for Pop Star PR."  The series of ads, created by the artisits Spelling Mistakes Cost Lives, Bill Posters, Billy Fisher, Billy Bindley & Tommy Gooch and Phire.
A member of the group, Janette Watkins, 23 from London says:
"Each year, Shell spends millions trying to convince us that it's a progressive, ethical company. But we're not buying it. Any investment Shell makes in renewable energy is dwarfed by the billions they continue to spend extracting and burning as much oil and gas as possible. The company uses pop stars and advertising campaigns to appeal to millennials – but we know their real business is wrecking the climate. Shell is not afraid to bribe and corrupt governments around the world to maintain its profits. As one of the artworks states shell is 'chatting gas' about being a green company and young people won't be fooled by their latest slick pr campaign."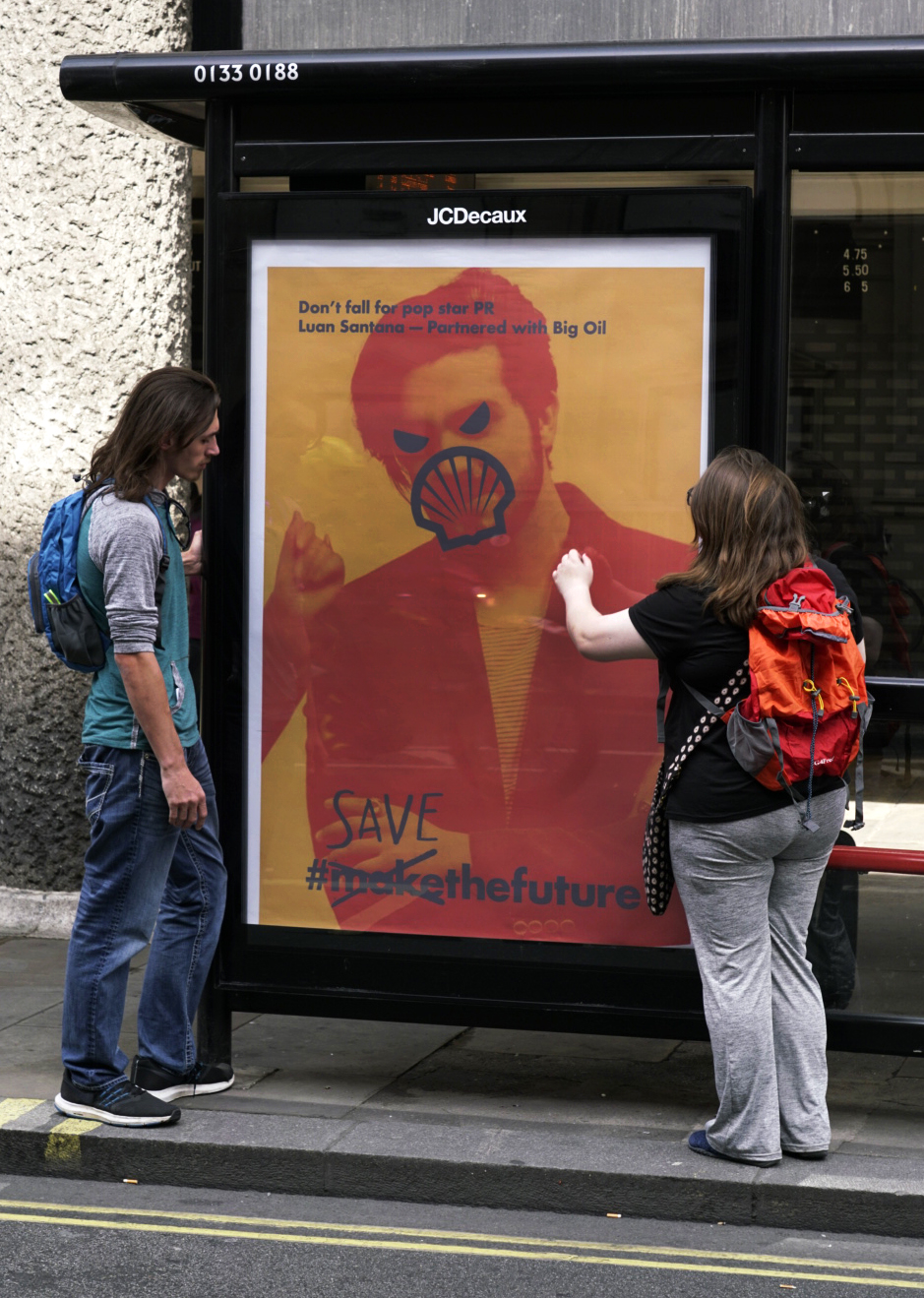 Shell's Make The Future campaign is designed to engage millennials as fossil fuel companies struggle to recruit younger staff. Shell's London based festival and larger international associated campaign have drawn criticism and ridicule in the past, with its efforts painted as greenwashing and disingenuous by milliennials concerned about climate change and social justice and human rights.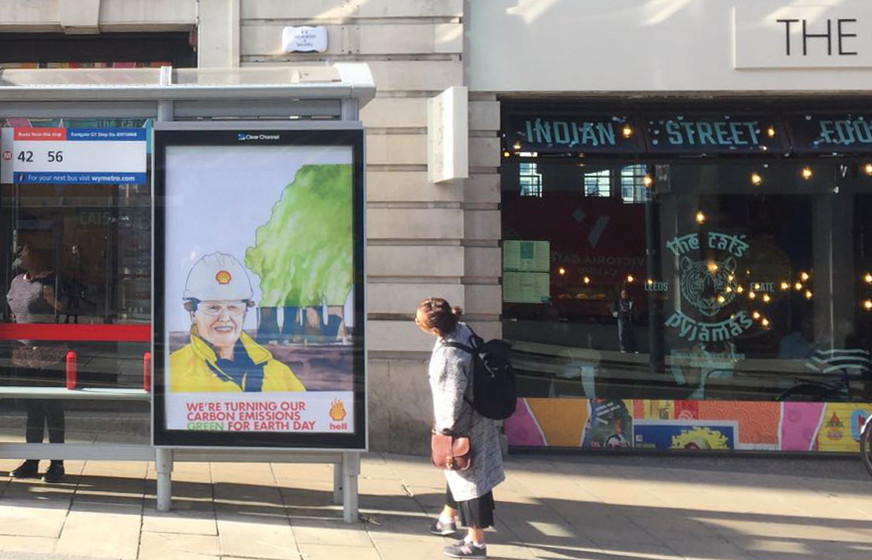 Several of the artworks installed  reference Shell's destructive corporate practices. As well as increasing pressure for their role in the worsening climate breakdown, Shell is facing more than 50 lawsuits for its involvement in corruption, human rights abuses and environmental destruction. In April this year, Friends of the Earth Netherlands annouced it would be taking Shell to court for undermining the ambitions of the Paris Agreement. Last November, Amnesty International called for a criminal investigation regarding on-going allegations over Shell's role in human rights abuses carried out by the Nigerian military in the 1990s. They also risk a multibillion doller bill due to earthquakes linked to its gasfields in the Netherlands.
Melissa Faulkner, 24 from Bristol, further justified the action:
"Shell's PR-spin is outrageous, misleading and  dangerous. Behind the pop-star veneer of Make The Future, you find a company complicit in human rights abuses and corruption and that is hell bent on digging up as much oil and gas as possible. We hope that this public art campaign and future actions during the Make The Future event can expose the truth behind their glittery brand. Shell knew about climate change for decades and did nothing."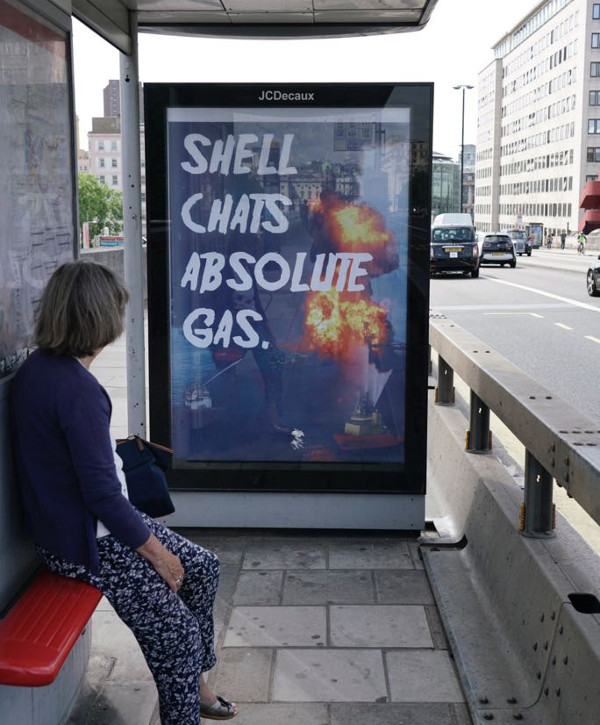 Brandalism's actions today are part of larger effort of more than twenty UK-based organisations to protest and disrupt Shell's Make The Future event. The group has created a spoof Facebook event page and promises a series of creative and disruptive actions during the four days of the festival. The series of actions are set to culminate in a large 'The People vs. Shell' dodgeball game outside the Make The Future event in Queen Elizabeth Olympic Park on Sunday 8th July. Groups involved in this wider effort include members of the Art Not Oil Coalition and several local fossil fuel divestment groups.
Follow @BrandalismUK for updates