Shell and BP slammed for poor workers' rights in Aberdeen guerilla billboard campaign
23 May 2022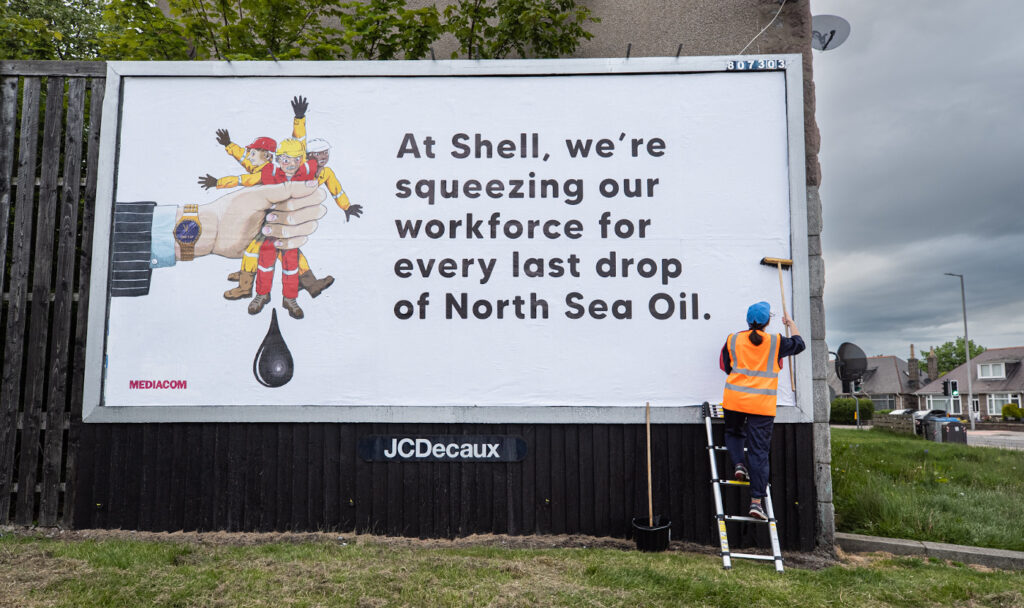 An unauthorised poster campaign from the 'Brandalism' network appeared in bus stop and billboard advertising spaces in Aberdeen on 22 May 2022. The posters featuring BP and Shell, installed without permission, coincide with Shell's upcoming AGM in London and Offshore Energy UK's conference on North Sea Transition Deal in Aberdeen.
The billboards take aim at the exploitation of workers and the climate by BP and Shell while making millions in profits through continued fossil fuel production. 75% of offshore workers are on ad hoc contracts with no job security according to a 2021 survey, with thousands being laid off when there is a downturn in the oil market [1]. It also comes as a decision from the UK government to approve or reject Shell's proposed Jackdaw gas field is expected, despite growing consensus that there can be no fossil fuel expansion [2].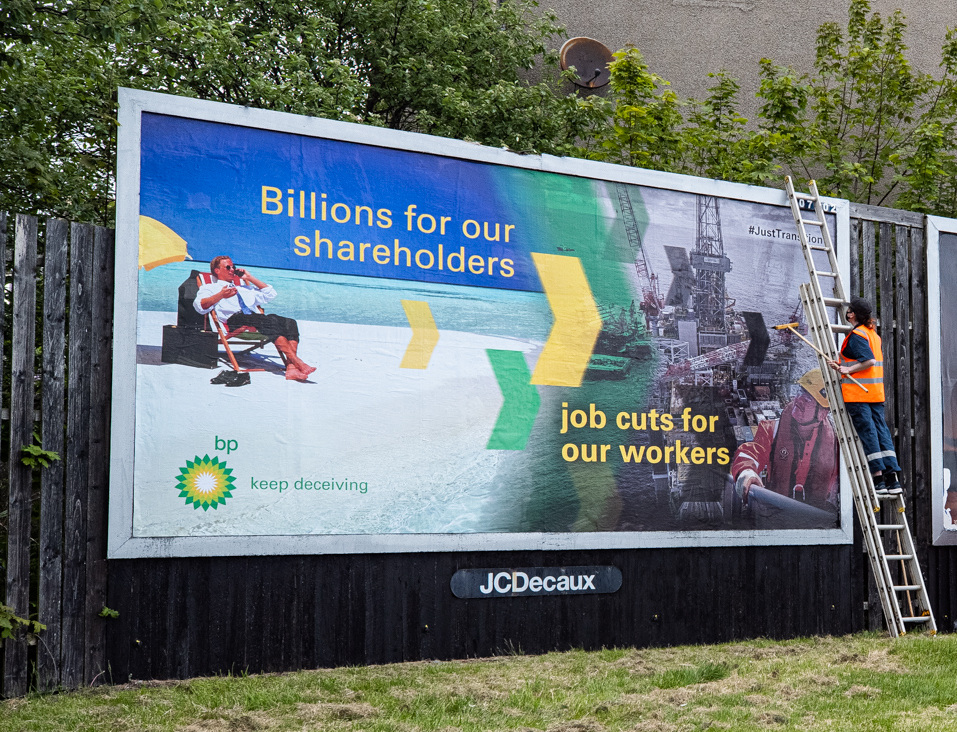 The artworks highlight the hypocrisy and greenwashing of oil majors who adopt the language of a 'just transition' whilst avoiding its key elements: empowerment for workers and avoiding climate breakdown.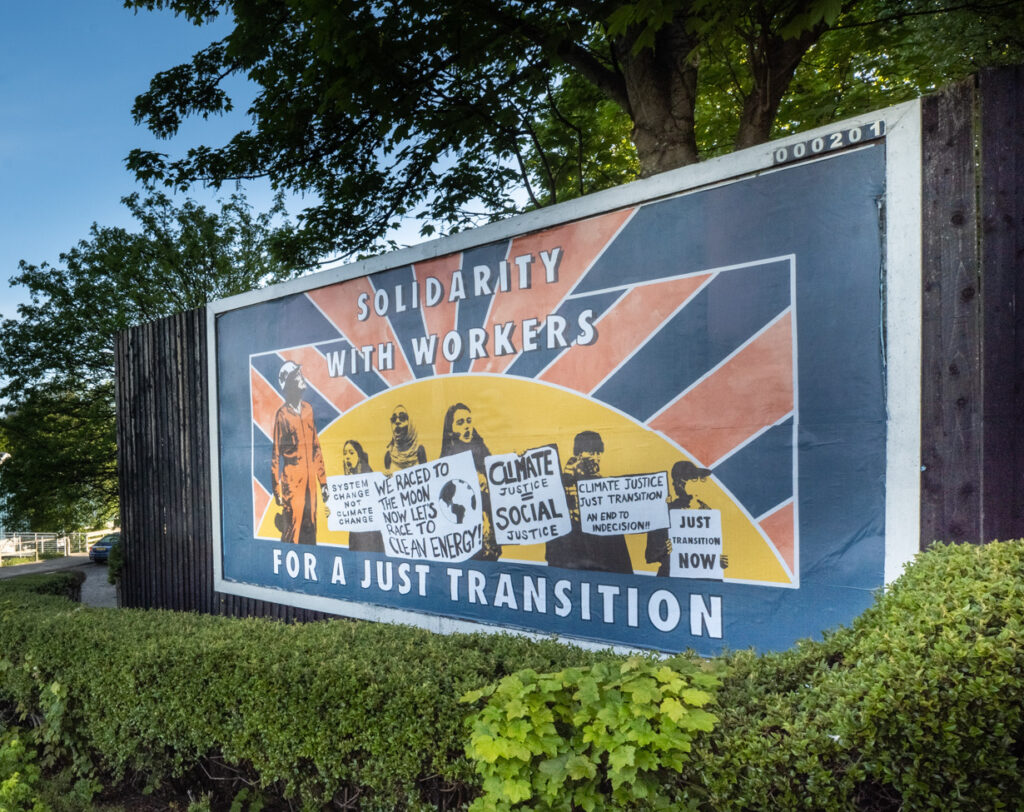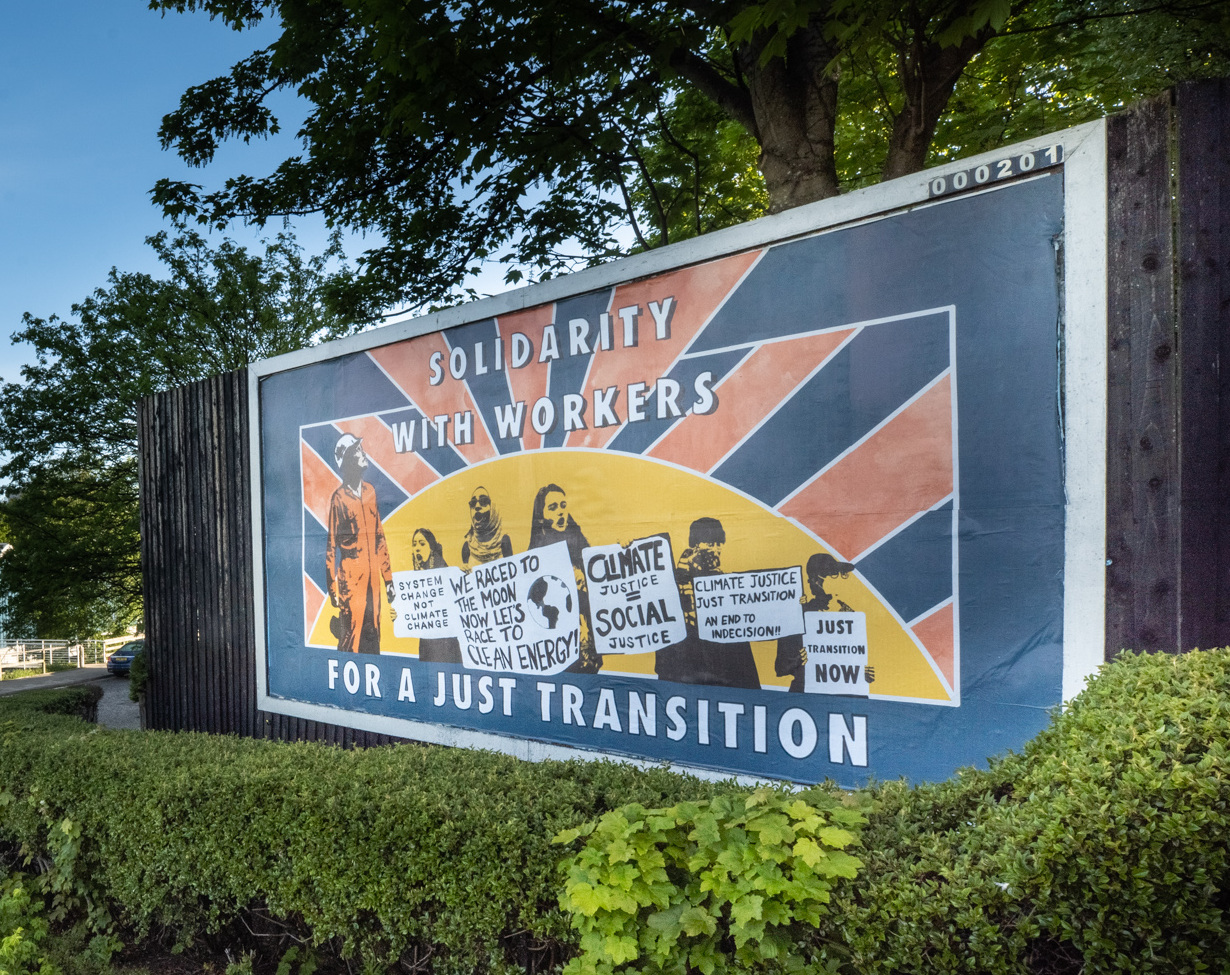 Tona Merriman from Brandalism said:
"A just transition requires a rapid phaseout of oil and gas and centering power in the hands of workers and communities, and it is clear that Shell and BP plan to do neither. Recent weeks have shown that they continue to make record profits off the backs of offshore workers and people's bills."
"Aberdeen has long been referred to as the oil and gas capital of Europe, with the city saturated by adverts from oil companies boasting their green credentials through the language of just transition, whilst behind the scenes they continue to exploit our natural resources and their workers for profit."
"Workers have the skills and expertise to lead the energy transition, while BP and Shell's bottom line is their profits. Offshore workers have already made demands for green jobs and an Offshore Training Passport that remain unactioned. We are calling for a just transition for oil workers that puts employees, communities and the climate before profit."
One poster by artist Lindsay Grime, aimed at Shell, reads "At Shell, we're squeezing our workforce for every last drop of North Sea Oil".
Another by Matt Bonner draws out the clear greenwashing by BP, reading "For us, energy transition means making billions in profit while selling out our workers".
A poster by Anarchxart draws on traditional union artwork styles, and reads "solidarity with workers for a just transition".
Notes to Editors
[1] 74.5% of surveyed oil and gas workers were employed on ad hoc contracts: https://platformlondon.org/wp-content/uploads/2021/06/Training-Costs-Survey-Results.pdf
[2] In 2020, the International Energy Agency said that there should be "no new oil and gas fields approved for development" anywhere in the world to keep within the 1.5oC limit of dangerous climate warming. UCL research found that new oil and gas licences were incompatible with UK's international climate commitments while peer-reviewed analysis by Oil Change International has found that 40% of existing developed reserves of fossil fuels cannot be extracted to have a 50% chance of staying within 1.5oC. Shell's plans for Jackdaw have already been rejected by the regulator because of its potential impact on the climate: Jackdaw's gas is particularly polluting because it has an unusually high CO2 content.
[3] Brandalism is a collective of artists and campaigners who hijack corporate billboard and marketing spaces with alternative artworks to challenge big brand advertising. http://www.brandalism.ch/
[4] Climate justice organisations Platform London and Friends of the Earth Scotland have been calling for a just transition for offshore workers, with proposals including an offshore passport that would make it easier for them to transition into renewable energy backed by unions RMT and Unite Scotland: https://platformlondon.org/2021/06/22/training-survey/