Activists target airline advertising over its climate impact.
22 Sep 2022
In a massive coordinated subvertising action across the UK, Netherlands, Spain, Italy, Portugal, Belgium and France, anonymous Brandalism crews hijacked over 500 corporate advertising spaces, replacing adverts with satirical artworks denouncing the role of aviation industry advertising in the climate crisis.
Tona Merriman from Brandalism said: "The allure and glamour of high carbon lifestyles such as frequent flying has been purposefully crafted by the advertising industry and shows no signs of relenting – despite one of the hottest summers on record. Advertising agencies such as Ogilvy, VCCP, Dentsu, DDB Munchen need to consider their role in driving up emissions for airlines they work for such as British Airways, Easyjet, KLM and Lufthansa. We call on employees in those firms to refuse work for high carbon clients."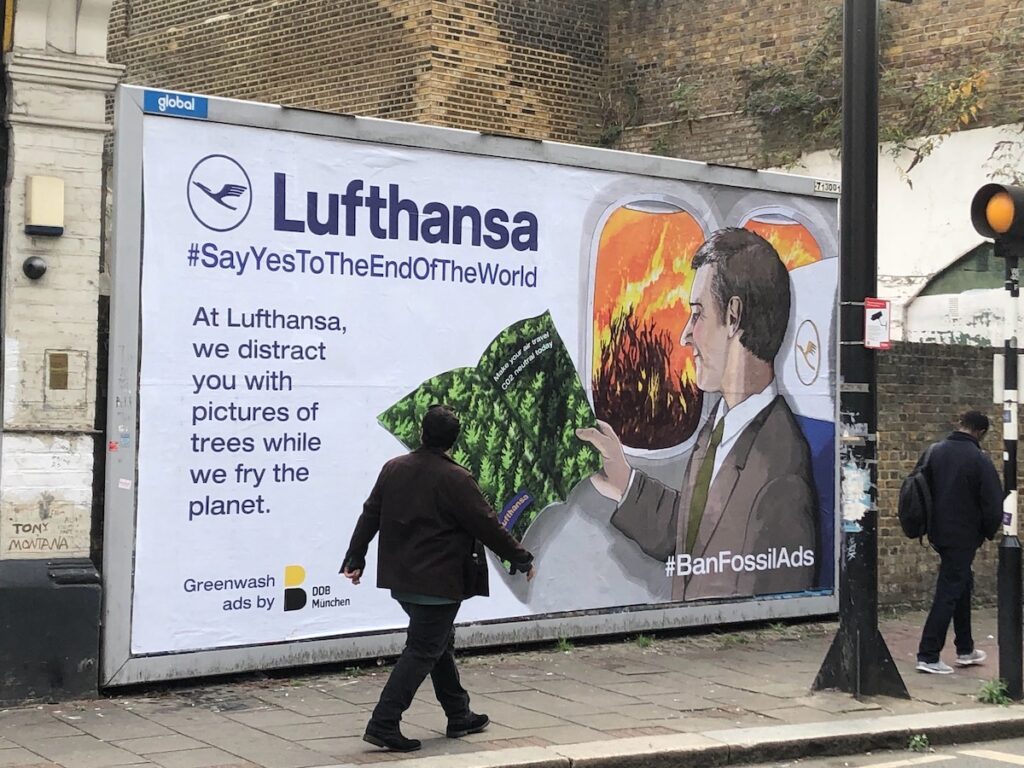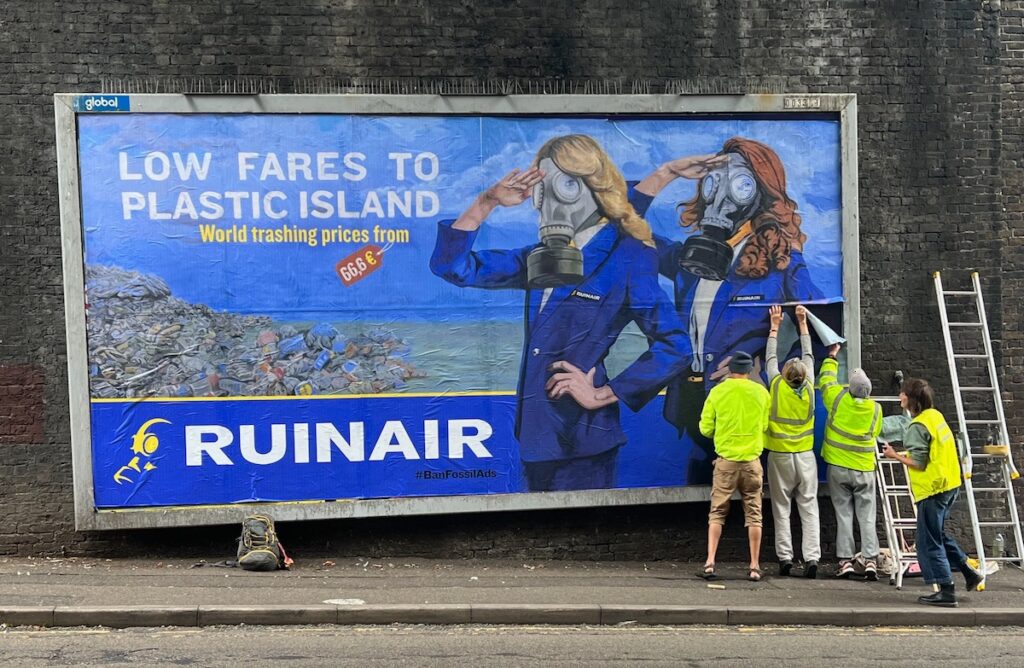 Artworks contributed to the project by eight artists call attention to the advertising agencies continuing to push extra flights during a climate emergency, including Uncommon for British Airways, VCCP for Easyjet and DDB for Europe's most polluting airline, Lufthansa. The art designs also lay into greenwashing practices through which airlines and airports make false sustainability claims, promises of future tech solutions or sell tickets using bogus 'carbon offsetting' schemes.
One artwork by Darren Cullen takes aim at frequent flyers and luxury passengers, with the text "We're turning Business Class green with the world's first on-board golf course" and referencing the three times larger carbon footprint of Business Class flyers compared to economy.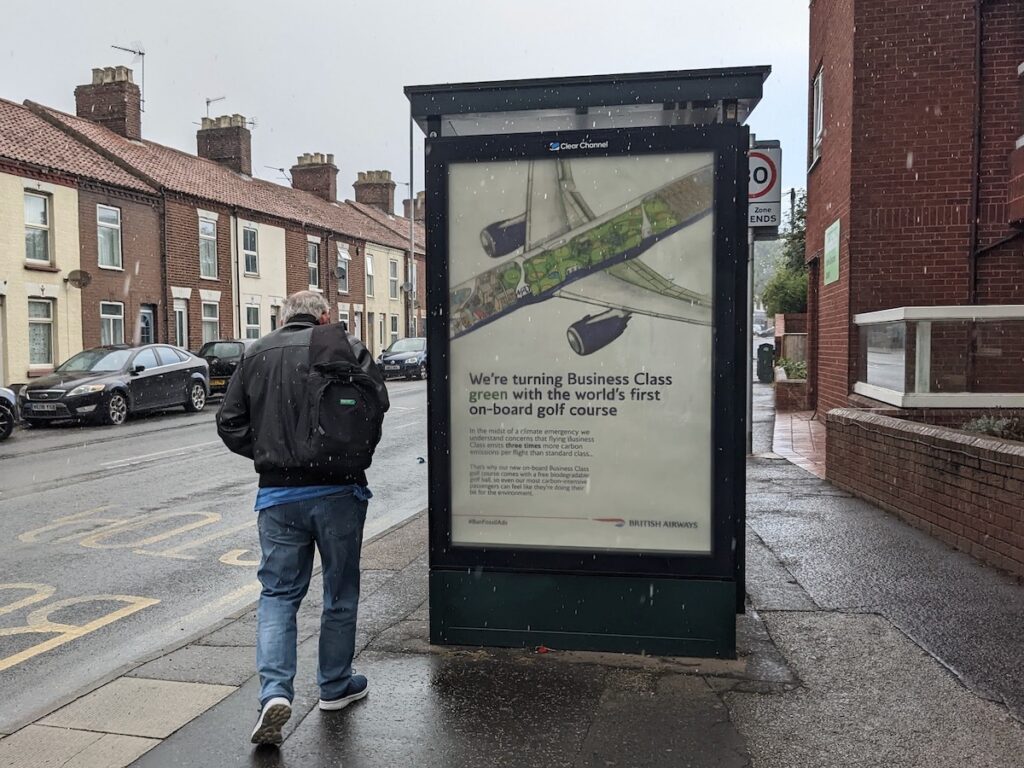 The mass international action comes in response to a summer of record-breaking heat and wildfires across Europe, during which airlines continued to advertise extra flights despite the oversized warming emissions caused by this mode of travel.
Ad agency VCCP even capitalised on deadly UK temperatures to push extra ticket sales for Easyjet, in a marketing campaign apparently un-ironically called "Heatwave".
Artist Lindsay Grime, who also worked on another recent Brandalism campaign calling for a just transition for North Sea oil and gas workers, said: "This project feels very timely because there's still a total cognitive dissonance that comes from living in a capitalist world – yes, heatwaves and wildfires are now our reality but still, why don't you jump on a plane and go on holiday? Advertising totally fuels this, selling an image of flying as desirable, easy, something to be done without thinking. This project aims to underscore that and tear apart the normalisation of promoting products and services we know to be highly polluting and destructive."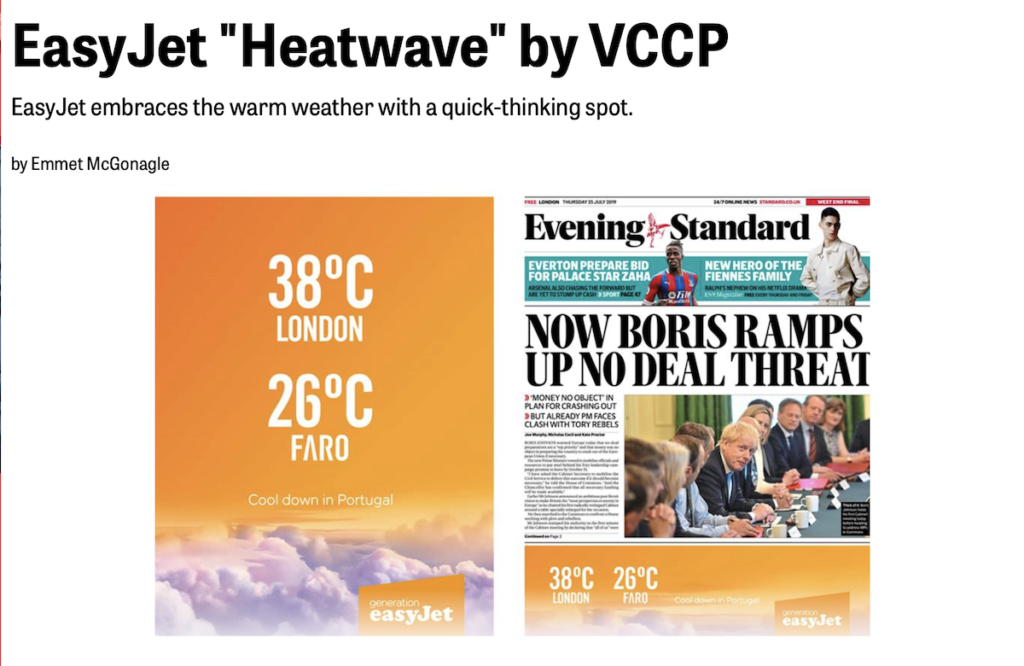 The art designs also reference local campaigns to stop airport expansion, including in Liège where a coalition of groups, the Stop Alibaba Coalition are opposing the growth of the airport and the extra carbon emissions and air pollution this would bring to the area.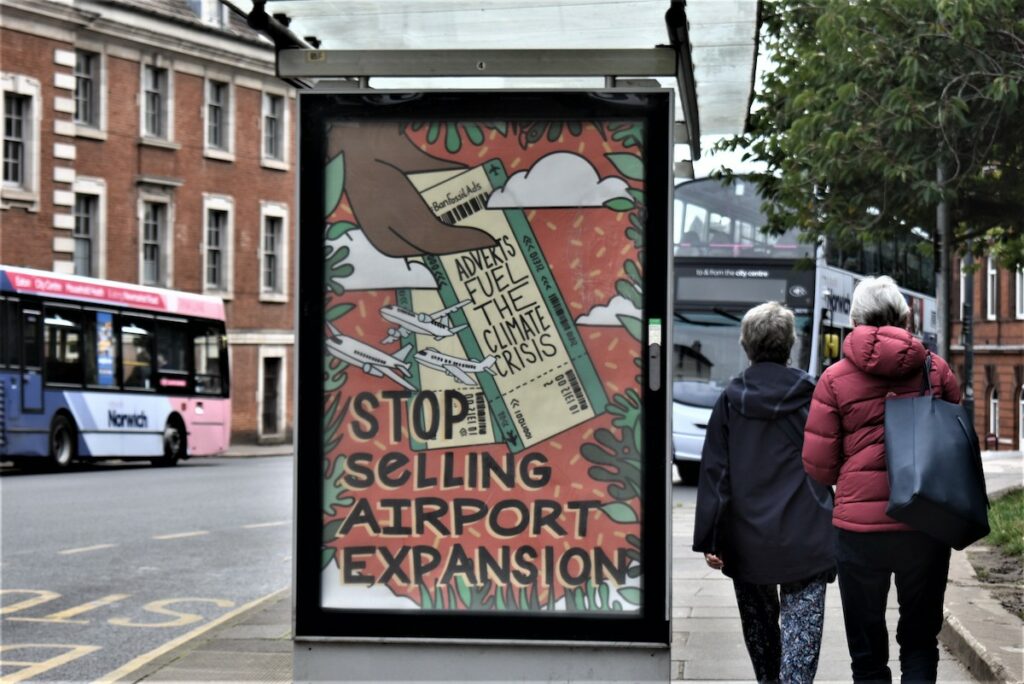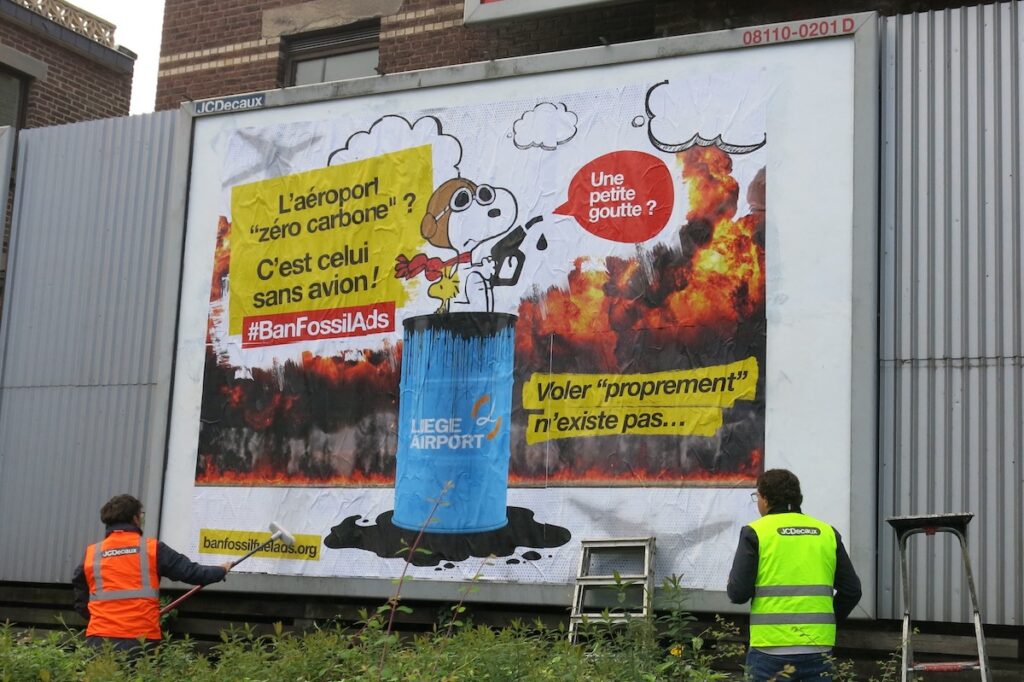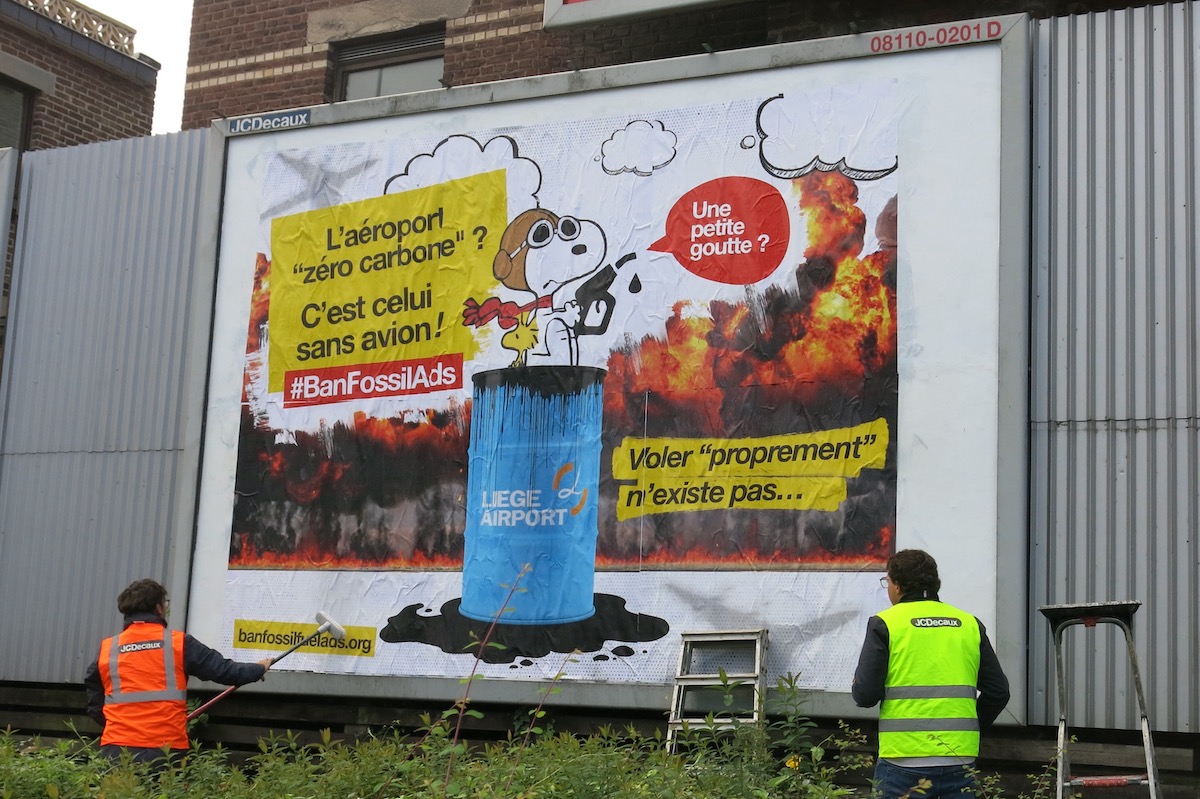 Activists from Liège Sans Pub were involved in the actions, as well as campaigners from Adfree Cities (UK), Badvertising (UK), Résistance à l'Agression Publicitaire (France), Climáximo (Portugal), Greenpeace International and 35 other organisations who are calling for legislation to end adverts for high carbon products, just as advertising for tobacco is no longer permitted.
Polling by Opinium research in April 2022 found that 68% of UK adults support restrictions on ads for environmentally-damaging products.
Campaigners say that the end is nigh for adverts that fuel the climate emergency – with a European Citizens Initiative to ban fossil advertising and sponsorship having garnered more than 300,000 signatures and cities such as Sydney, Amsterdam and The Hague already having banned high carbon ads.
Andrew Simms, of the Badvertising campaign in the UK, said:
"Advertising plays a crucial, but often overlooked, role in fueling the climate crisis. By pushing high-carbon goods, such as cheap flights, advertising is complicit in driving carbon emissions higher at a time when we need to see an urgent reversal. Just like cigarette advertisements were eventually snuffed out from the 1980s onwards, governments and regulators need to step up to stop these companies polluting the planet and public space."
Take action to #BanFossilAds:
In the EU: sign the European Citizens Initiative to #BanFossilAds: www.banfossilfuelads.org
UK citizens can write to their local policymakers to demand a ban on high-carbon advertising: www.action.wearepossible.org/page/71823/action/1