Carbon offsets don't work: billboard takeover spotlight NatWest's climate policies ahead of COP26 climate talks
23 Oct 2021
23 October 2021
The murky climate policies of NatWest bank have been laid bare in a guerrilla billboard campaign across 20 UK cities this week.
Ad spaces have been taken over with satirical NatWest ads spotlighting questionable loopholes in the bank's climate policy. The policy allegedly allows NatWest to continue financing fossil fuel companies as long as they proclaim to 'offset' their carbon emissions.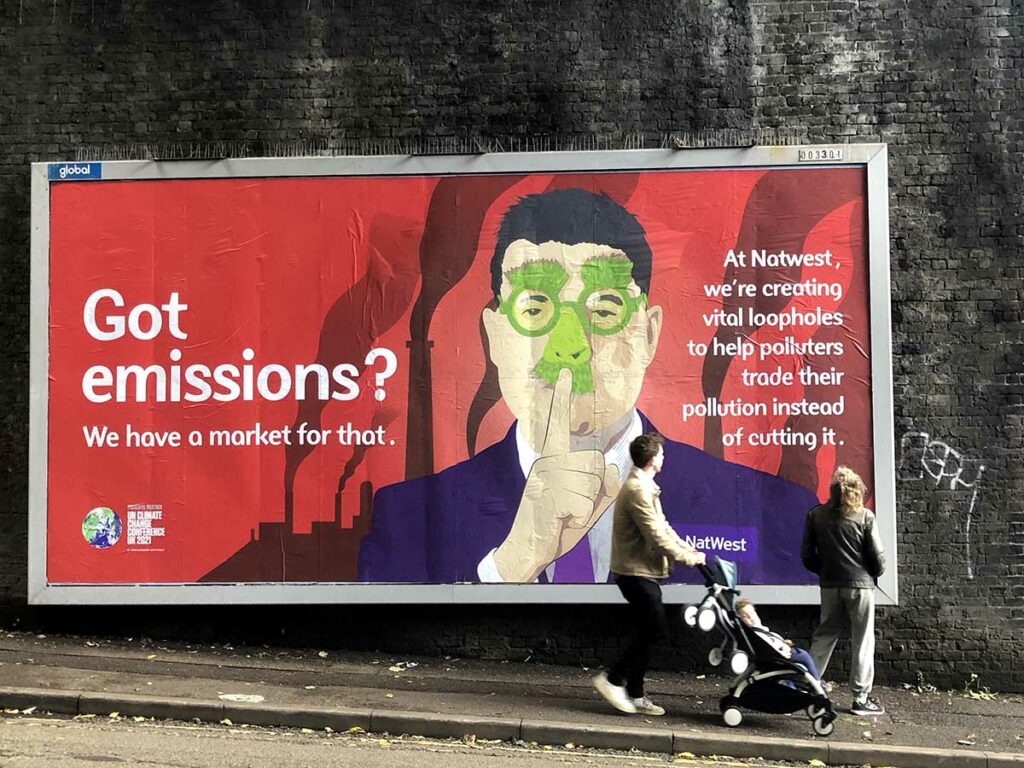 While the bank has been getting a reputation boost over its green credentials as one of the principal sponsors of the upcoming climate conference, COP26, climate activists have called out the bank's supposedly green image as 'absurd' owing to its support for fossil fuel companies and dodgy carbon offsetting schemes. In response, artworks by Darren Cullen and Yasemin Akyuz were installed without permission by Brandalism crews at billboards and bus stops, making a visible dent in NatWest's public image.
The action is timed to turn up the heat on NatWest in the run up to COP26 in November, which campaigners are calling the most important ever climate summit.
NatWest has said it will require major oil and gas companies to provide a 'credible transition plan' to reduce their emissions in line with the 2015 Paris Agreement. But the devil's in the detail and so far, the bank has resisted calls to show what its criteria would be, while CEO Alison Rose has expressed support for carbon offsets as a way of tackling the climate crisis.
Proclaiming to 'offset' carbon emissions is a great way for companies, including major oil and gas firms, to avoid reducing their carbon emissions. By promising to use carbon offsetting and reach 'net zero' emissions in 2030, 2040 or 2050, they can delay taking any real action to slash emissions in line with what's needed to avoid climate breakdown.
Meanwhile, offset schemes themselves have been called out as highly flawed – with links to land grabs, climate colonialism, issues around permanence (for example afforestation projects that burn down, as seen in California) and false claims such as protecting forest that was never under threat. Read more in Chasing Carbon Unicorns and The Big Con.
Cathel de Lima Hutchison of fossil-free campaign group Glasgow Calls Out Polluters said:
"NatWest Group wants you to think they are a climate friendly bank. What with them being the banking sponsor to COP26 and launching a carbon offset marketplace on their way to becoming 'Net Zero Heroes'.

"Nothing could be more absurd. NatWest provides loans and underwriting to companies expanding their oil and gas drilling operations in the Arctic, and their carbon offset platform enables big polluters to keep polluting while passing the buck. We call on the UK government to drop NatWest as banking sponsor to COP26, and NatWest to divest from fossil fuels and stop promoting false solutions like carbon markets."
Darren Cullen's artwork reveals the idiocy of NatWest's support for carbon offsetting with the words "A flood can offset a drought if we're doing the accounting" and "we're committed to finding ways for the oil and gas corporations we fund to reach 'Net Zero' without actually reducing their emissions".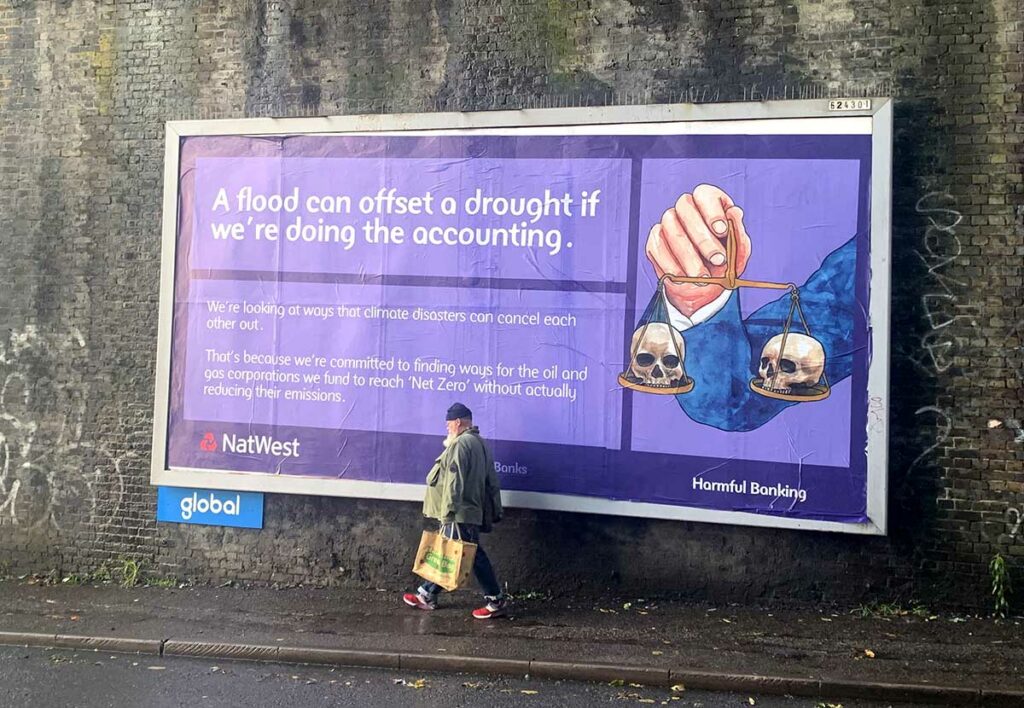 There's growing pressure on finance ahead of COP26 over its use of offsets, with an open letter last week signed by over 170 organisations arguing that 'offsets don't stop climate change' and calling out offset schemes as 'false solutions'.
Of course NatWest isn't the only bank to be relying on carbon offsetting to carry on financing fossil fuels. The spoof ads also target Standard Chartered bank. Although less well-known, Standard Chartered is one of the UK's biggest fossil fuel financiers, and was the target of a previous Brandalism ad-hack in Liverpool over its polluted sponsorship of Liverpool Football Club.
Standard Chartered's CEO, Bill Winters, is perfectly satirised in an artwork by Yasemine Akyuz that reads: "Carry on Drilling. Our tree planting will take care of the rest".
Winters is chair of the Taskforce on Scaling Voluntary Carbon Markets, a private sector-led initiative promoting voluntary carbon credits and offsetting as a solution to climate change. The Taskforce has faced allegations of 'greenwashing', while under Winter's watch Standard Chartered has continued to grant billions of dollars to oil, gas and coal firms this year alone.
Tona Merriman from Brandalism said:
"As sponsor of COP26, NatWest should be attaching water tight conditions to their loans to rapidly transition away from fossil fuels  – but instead, they're opening the door to dodgy carbon offsets. Major polluters like Shell, BP and Total are misleading customers, promoting offsets as an excuse to justify more oil and gas expansion, aided by their bankers. UK banks like NatWest and Standard Chartered need to stop facilitating these shady loopholes."
Findings by the International Energy Agency earlier this year showed that no fossil fuel expansion is compatible with achieving net-zero by 2050. Given the IEA's respected role, groups are urging banks to apply these rules to their fossil fuel clients.
Follow the story on Twitter and Instagram: #FossilBanks