Barclays #FossilBanks // 2021

Barclays finances climate breakdown. Guerilla billboard campaign slams Barclays for funding the expansion of the fossil fuel industry.
21st September 2021

Over 200 artworks have been installed in corporate bus stop and billboard advertising spaces across Britain critique Barclays financing of fossil fuels companies.  Dubbed 'the dirtiest bank in Europe', Barclays continues to provide massive sums of money in support of major polluters.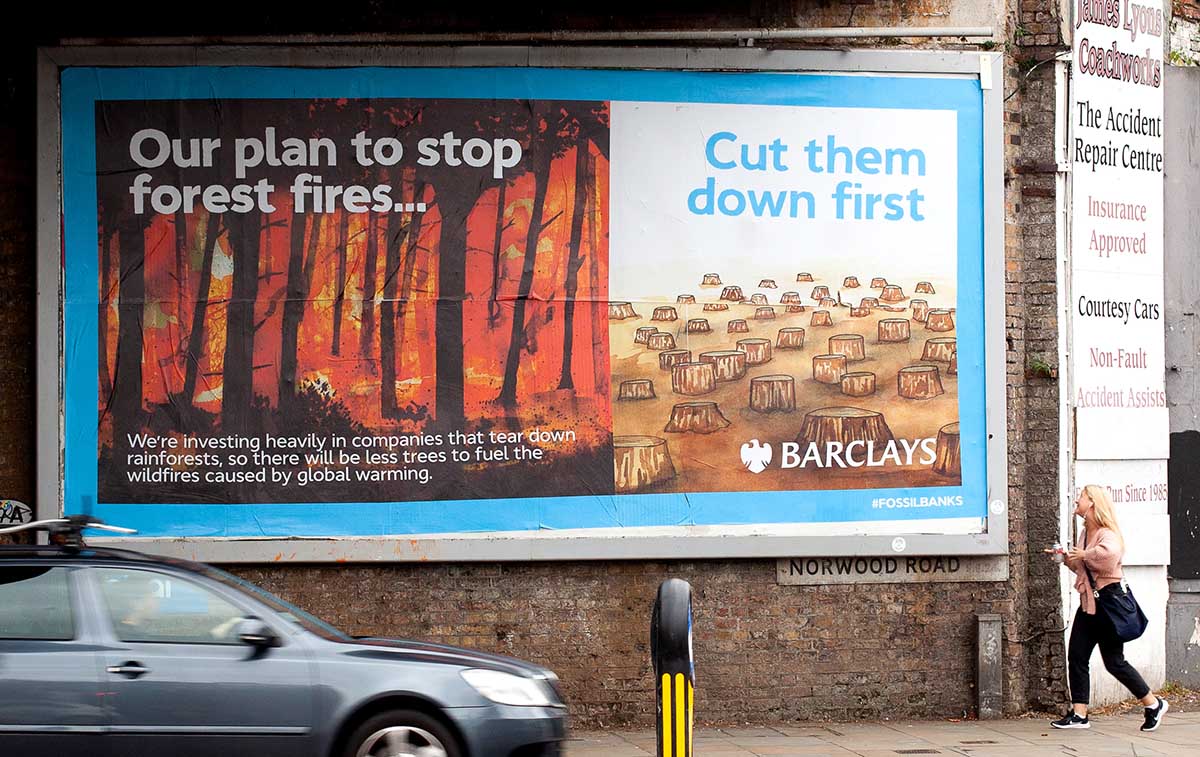 Above: art design by Darren Cullen. Installation by Brandalism.
Despite this, the bank continues to be a household name. Barclays' advertising helps uphold its reputation as a socially and environmentally responsible bank, while it continues to fund the dirtiest types of fossil fuel extraction and supports companies responsible for mass-scale deforestation.
Satirical Barclays adverts were installed by Brandalism activists, hijacking billboards and bus stops in 20 towns and cities across the UK (IMAGES HERE). The mock ads, designed by 11 artists, spotlight Barclays' role in financing climate breakdown, adding to growing public pressure for big banks to clean up their act. Barclays has so far refused to take action on climate, despite pledging to reach net zero emissions by 2050. The bank is currently considering updating its policy on fossil fuel lending ahead of the COP26 climate summit in Glasgow this November.
The campaign follows previous Brandalism actions targeting HSBC and Standard Chartered banks, which are also responsible for financing climate-destroying fossil fuels. Together with Barclays, these 'fossil banks' supported a combined $12 billion in fossil fuel financing in the first six months of 2021 alone, doubling down on their support to polluting industries – despite each bank claiming to be targeting net zero emissions by 2050.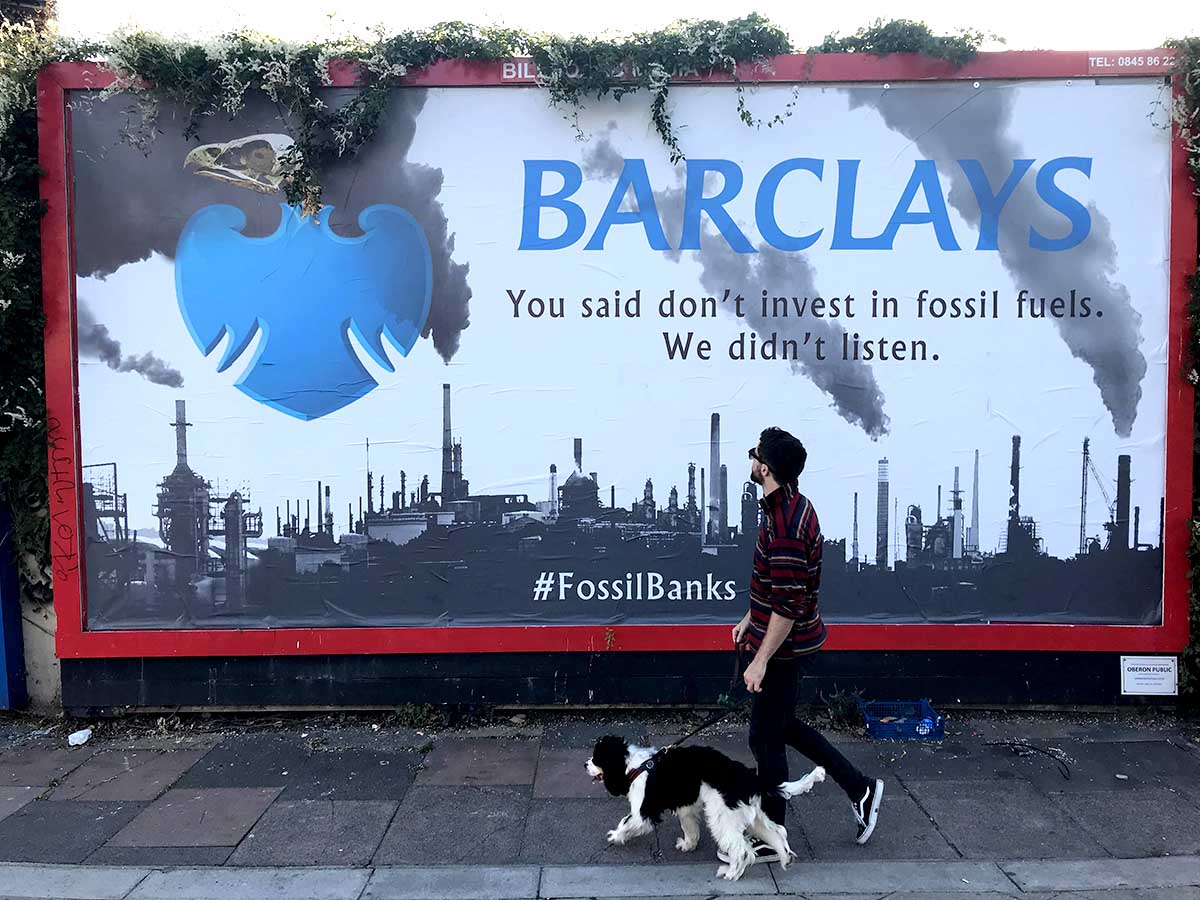 Above: art design by Polyp. Installation by Brandalism.

The spoof adverts reveal Barclays' involvement in some of the dirtiest and most 'high-risk' forms of fossil fuel extraction, including fracking, tar sands, shale oil, coal, and arctic drilling. Many financers have dropped these types of projects due to their particularly high levels of pollution and abuse of the rights of Indigenous peoples. But Barclays has been strongly criticised for increasing its support to these non-conventional fossil fuel sectors by 32% from 2019 to 2020, according to the influential Banking on Climate Chaos report.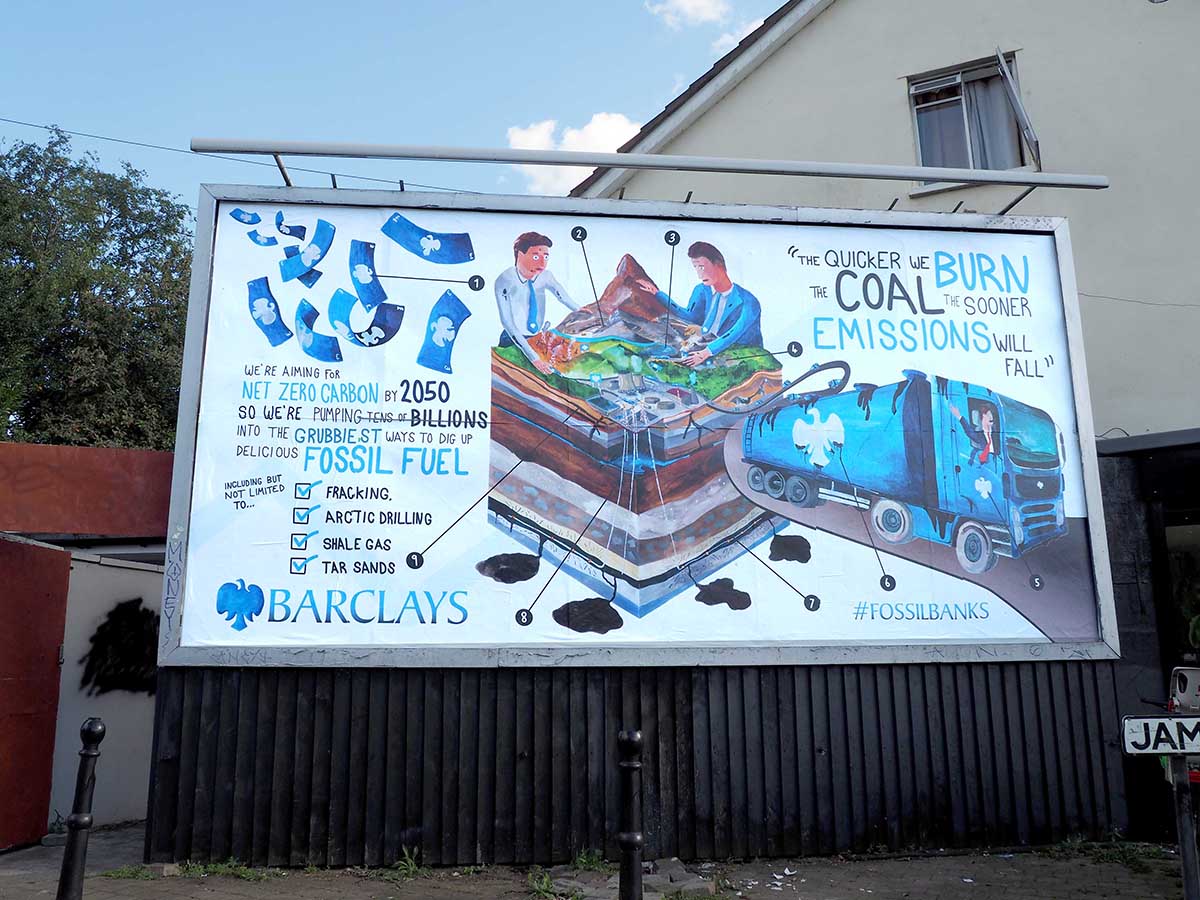 Big banks love to sponsor popular sports, and the ads also mock Barclays' ongoing sponsorship of the Premier League. Football is awash with high carbon sponsorship as banks, oil and gas firms, car companies, and other polluters race to bolster their reputation in light of growing awareness of their role in climate breakdown.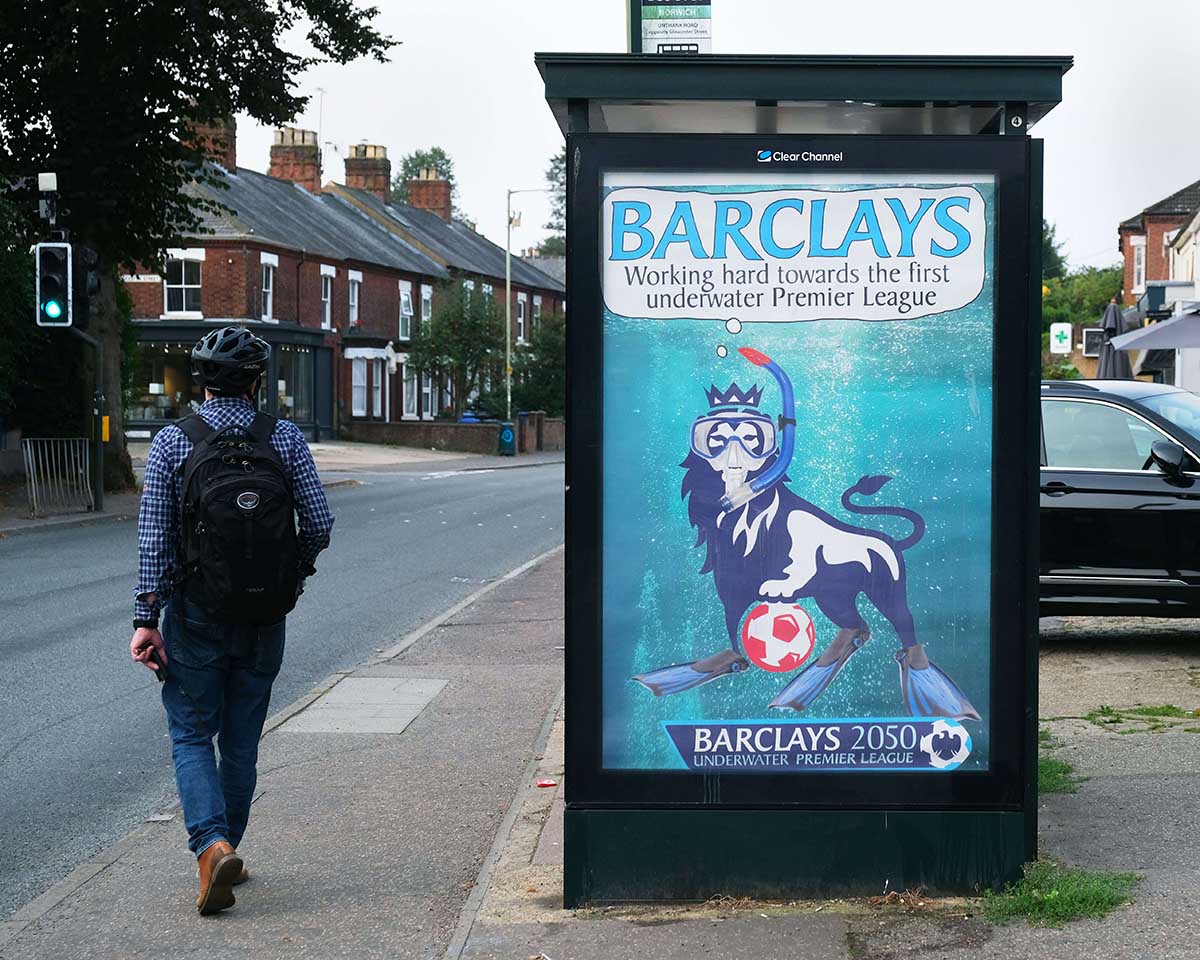 Above: art design by F-Art Attack. Installation by Brandalism.
Whilst pouring money into fossil fuel extraction to increase global emissions, Barclays is simultaneously supporting massive agribusiness like JBS and Cargill which have been linked to massive deforestation in the Amazon rainforest. Barclays is financing these companies to cut down the trees we rely on to draw down carbon and prevent catastrophic tipping points of global heating. One artwork by Darren Cullen reads "Our plan to stop forest forest… Cut them down first".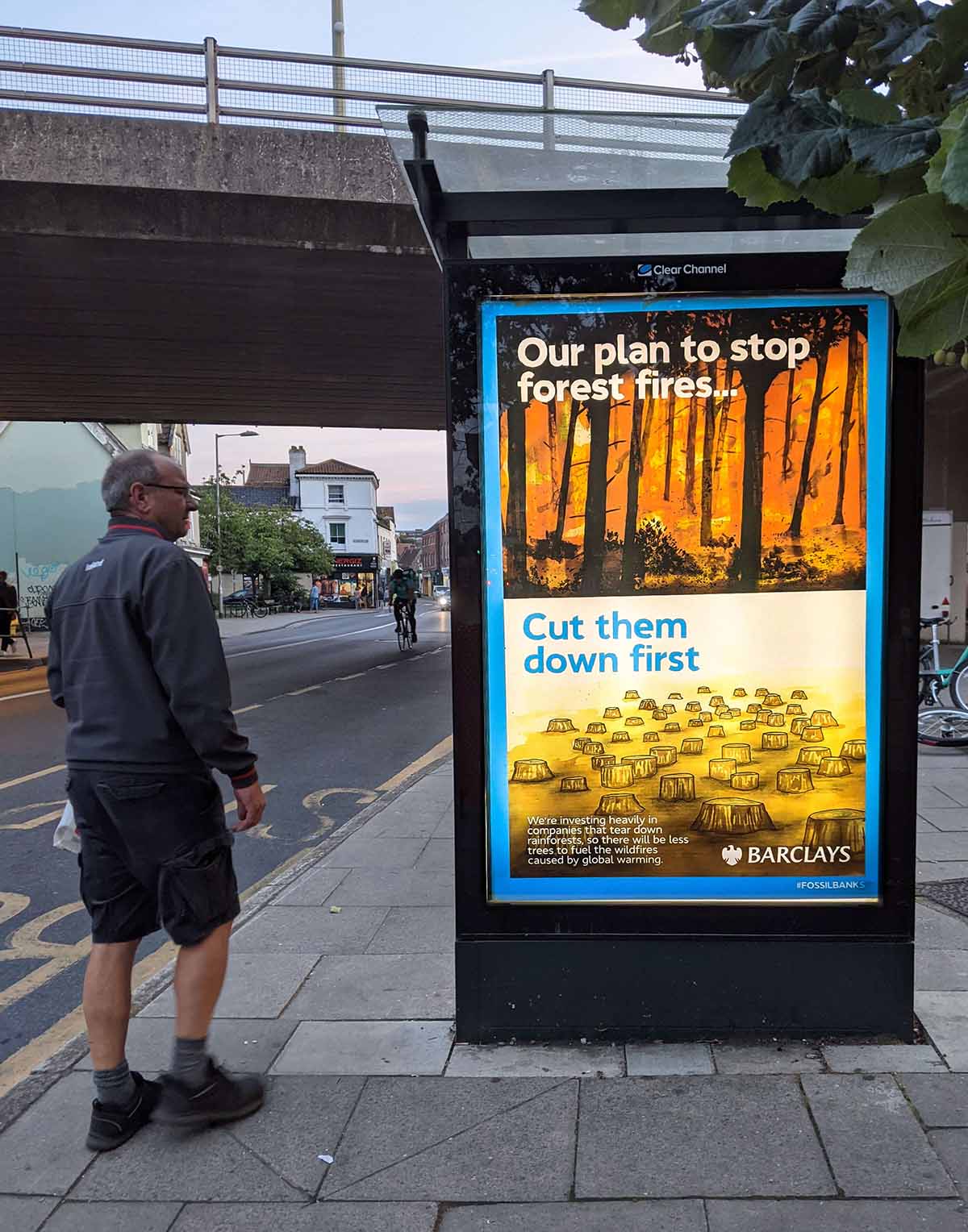 Above: art design by Darren Cullen. Installation by Brandalism.
Tona Merriman from Brandalism accused Barclays of making disingenuous claims to become a "net zero" bank whilst granting $4.4bn in loans and bonds to fossil fuel companies in 2021 alone. 
"The posters showcase the environmental impacts we don't see in Barclays' own adverts: the deforestation, the ocean drilling, the oil spills, the wildfires, the threat to wildlife. They're a corrective, right of reply to the greenwash messaging of Europe's dirtiest bank."
"Ahead of COP26, banks like Barclays will tell the world how much they're investing in renewables. But what's more significant is how much they continue to pour into fossil fuels. Put simply, it's not enough to fund the good stuff, they've also got to stop funding the bad stuff."
While Barclays continues to finance fossil fuels and deforestation, the world gets closer to catastrophic climate breakdown. While Barclays remains a family-friendly household name, the bank can continue attracting personal customers and international investment. But the link between big banks' public image and actual activities is getting clearer by the day.
More images from the campaign can be seen in the gallery below. Follow the story on Twitter and Instagram: #FossilBanks